Mom's Leaf Removal Is Too Much for Me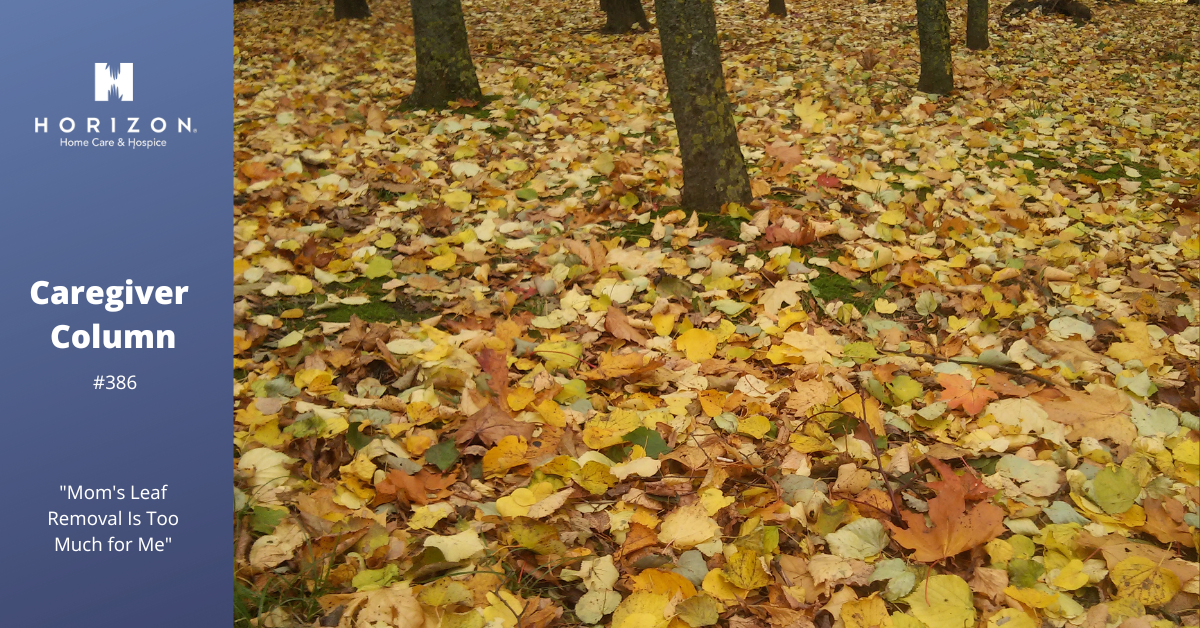 Question
"I feel quite silly writing this, but we have a leaf problem. Actually, my mother has a leaf problem. The issue is that she has tons but is unable to rake, blow, or beam them off her lawn.
Mom is 83 years old and living in her own home in a practical forest! She has many mature trees and lots of lawn. She expects, and I mean expects her two sons to spend their weekends maintaining this enormous yard. Lawn mowing on her rider is a two-hour job. Since we both like grass cutting, we each do every other weekend without complaint.
Now that it's fall, leaves are everywhere and neither of us is very into leaf removal. She refuses to hire someone even though money is no object.
Neither of us wants to upset Mom because the consequences are not pleasant. We're both getting pressure from our wives to take care of our own properties. We feel so caught in the middle.
We have kids and obligations, not to mention full-time jobs. How do we tell our demanding mother to hire it out?"
Answer
I picture the family home on at least an acre or two of land, if not more, with a beautiful canopy of trees. It sounds like a lovely homestead. I can see why she's trying or hold on to it. So would I. The work to maintain, though, is quite real. You don't mention your father, so I assume he is no longer living or just not in the picture.
So, what to do when your mother expects all her maintenance to come from her sons? I get the grass cutting, sort of. If the two of you live close enough and you can fit it in to your schedule, that works. When it comes to leaves, some can just be mulched with the mower, though it's quite difficult when you live on a heavily wooded lot unless you mow very other day or so, which isn't practical.
I believe the two of you already know what needs to happen here. It's time to hire out some of this yard work if your mother is to remain in this home. Some properties simply require able residents or hired caretakers to maintain. That's the long and short of it.
All good children do their best to assist their parents to remain in their homes. In most situations, though, it does reach a point when the work is more than the children can manage. That point is different in each situation, but it almost always comes. It has now come to that for you.
My recommendation is that you continue to see your mother with the same frequency you always have. I would never, never recommend that you decrease your presence. What I suggest instead is to find someone or a service for fall yard cleanup. Let your mother know who you've found and the pricing options. Offer to set it up for her and move forward. She may balk because you've done it in the past. Let her know kindly but firmly that it's too much, and tell her why.
It's okay to tell your mother that a task is too big for you, and outside help is needed. I'm sure she hires outside for plumbing issues, furnace repair, and other tasks. This isn't that different. I realize most home owners manage their leaves, but not usually the elderly. So, simply tell her it's time for help beyond what you and your brother can provide. Help her set it up and carry on.
You sound like a wonderful and thoughtful son. You will get through this little challenge along the journey of growing with a family.
About this Post
Posted 10.22.2022