About
For questions or to make a referral, please
Call: 414-365-8300
Fax: 414-365-8330
Horizon Home Care & Hospice Accreditation
Horizon Home Care & Hospice is accredited by The Joint Commission. Joint Commission accreditation can be earned by many types of health care organizations, including hospitals, doctor's offices, nursing homes, office-based surgery centers, behavioral health treatment facilities, and providers of home care services.
The goal of The Joint Commission is to continuously improve healthcare for the public, in collaboration with other stakeholders, by evaluating healthcare organizations and inspiring them to excel in providing safe and effective care of the highest quality and value.
The Joint Commission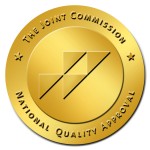 The Joint Commission was founded in 1951. The Joint Commission evaluates and accredits more than 20,000 healthcare organizations and programs in the United States. An independent, not-for-profit organization, The Joint Commission is the nation's oldest and largest standards-setting and accrediting body in healthcare. To earn and maintain The Joint Commission's Gold Seal of Approval™, an organization must undergo an on-site survey by a Joint Commission survey team at least every three years. (Laboratories must be surveyed every two years.)
We welcome and encourage our patients and customers to contact us with concerns related to patient care or safety. Please feel free to contact us at 414-365-8300 or contact@hhch.net.
In addition, you may contact The Joint Commission office of Quality Monitoring:
By fax to 630-792-5636
By mail to The Office of Quality and Patient Safety (OQPS), The Joint Commission, One Renaissance Boulevard, Oakbrook Terrace, IL 60181
At www.jointcommission.org, using the "Report a Patient Safety Event" link in the "Action Center" on the website's homepage