Horizon chaplain helps shape new Interfaith Prayer Room at Columbia St. Mary's - Ozaukee
This week marked the opening of the brand-new Interfaith Prayer Room at Columbia St. Mary's Hospital - Ozaukee, on the same campus as Horizon's Lawlis Family Hospice.
Chaplain Emma Landowski of Ascension spearheaded the effort to create a space inside the hospital that meets the spiritual needs of patients, family members and staff members. Similar efforts are taking place at all Ascension facilities.
Ascension is committed to holistic healing, which includes physical, intellectual, emotional, and spiritual aspects. "By providing someplace where people can practice their faith, we round out that full holistic picture of health. It's important to give people a space 'to be.'"
It was also incredibly important to all that the area be accessible to those of all backgrounds. "While Ascension is a Catholic organization, we of course acknowledge, honor, and celebrate all faiths. We want this space to be for everyone."
To help with this, Chaplain Emma consulted Sameer Ali, a Horizon Chaplain and Muslim Imam. The two worked closely, also collaborating with Ascension Chaplain and Rabbi Leonard Lewy on what to include in the room.
With Chaplain Sameer's guidance, there is a spot to remove one's shoes along with Muslim prayer rugs. There is a marker on one of the walls indicating Qibla, or the fixed direction in which Muslim daily prayers are done. There are also multiple copies of the Quran and prayer beads available.
Other helpful additions to the room include yarmulkes and texts like Tanakh and The New Mahzor for Jewish visitors, and Bhagavad Gita for Hindu visitors. A Tibetan singing bowl and chakra stones also promote meditation and reflection.
"Many hospitals already have chapels and Christian faith-based spaces. This room is an opportunity for those of other traditions to feel included," says Chaplain Sameer.
Kudos to the Chaplains Leonard, Sameer and Emma (pictured below) for their work on this! See more photos on our Instagram page.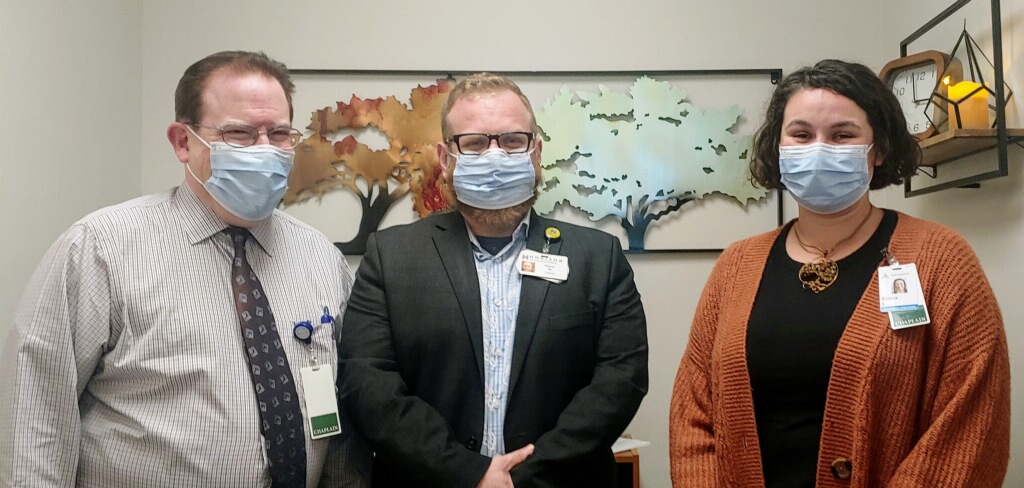 About this Post
Posted 09.30.2022
Latest on the Blog...
Caregiving Advice
Sep 30, 2023
Caregiving Advice
Sep 23, 2023
Caregiving Advice
Sep 16, 2023