Will Physical Therapy Help My Mom?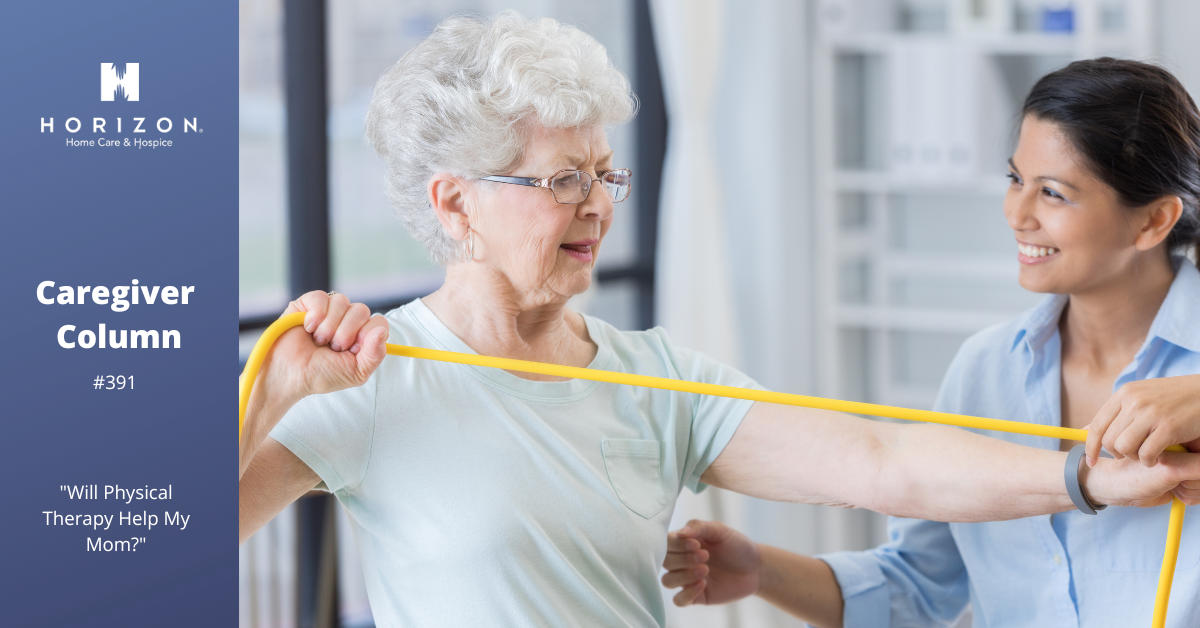 Question
"My 95-year-old mother lives in an independent living apartment in a complex for the elderly. Lately, I've noticed that she moves slower than she used to. There hasn't been a dramatic difference, she just gets up slower and walks slower than in the past.
What I'm wondering is when one should ask for a little therapy? My mother would never ask for any assistance. I also don't think she'd follow through with any recommendations or exercises. She might do what's asked of her when she's with the therapist, but that's about it.
I don't want my mother to worsen if there's a chance I can prevent that. What do you think?"
Answer
This is a wonderful question, and one that comes up daily for those of us working in health care, serving the oldest of our citizens. Quite often, children of the elderly ask if "a little therapy" is a good idea. They see their parent declining and want to prevent it.
My answer is that therapy is never a bad idea. It will likely do no harm. Will it, though, be of any benefit to her? That is the question, and it depends on her willingness to follow through.
Therapists do a wonderful job of assessing where the weakness is and what needs to be done to strengthen muscles. As we all know, it's our muscles and joints that propel us. Your mother will have muscle loss as she ages. It's possible, also, that her joints become arthritic and stiff.
A therapist can assess where she's at, do some active training with her, and provide a program for your mother to perform. If she's not willing to alter her behavior or follow through with the recommendations, the effort to stabilize and strengthen her will be in vain. Your mother will continue to age, and decline is inevitable. She needs to make aggressive changes to her activity and do the outlined exercises to have any chance for improvement or stabilization. If she's not interested in making changes, "a little therapy" will do little to improve her physical status.
One benefit from therapy that I haven't mentioned is proper positioning of the body, when sitting, sit to stand, and bending. A therapist can also evaluate movement and make recommendations on safely living within her environment. A therapist will explore the need for assistive devices that would be helpful to your mother.
Therapy may offer some tips to help mom stay independent longer. For optimal benefit, the patient needs to commit. If you have the time and energy to support your mother, and she's willing to follow your lead, you may have some success. If she isn't interested in following the recommendations, it won't be as beneficial.
I wish you and your mother well on this journey.
About this Post
Posted 11.26.2022
Latest on the Blog...
Caregiving Advice
Dec 2, 2023