When Snowbirds Should No Longer Fly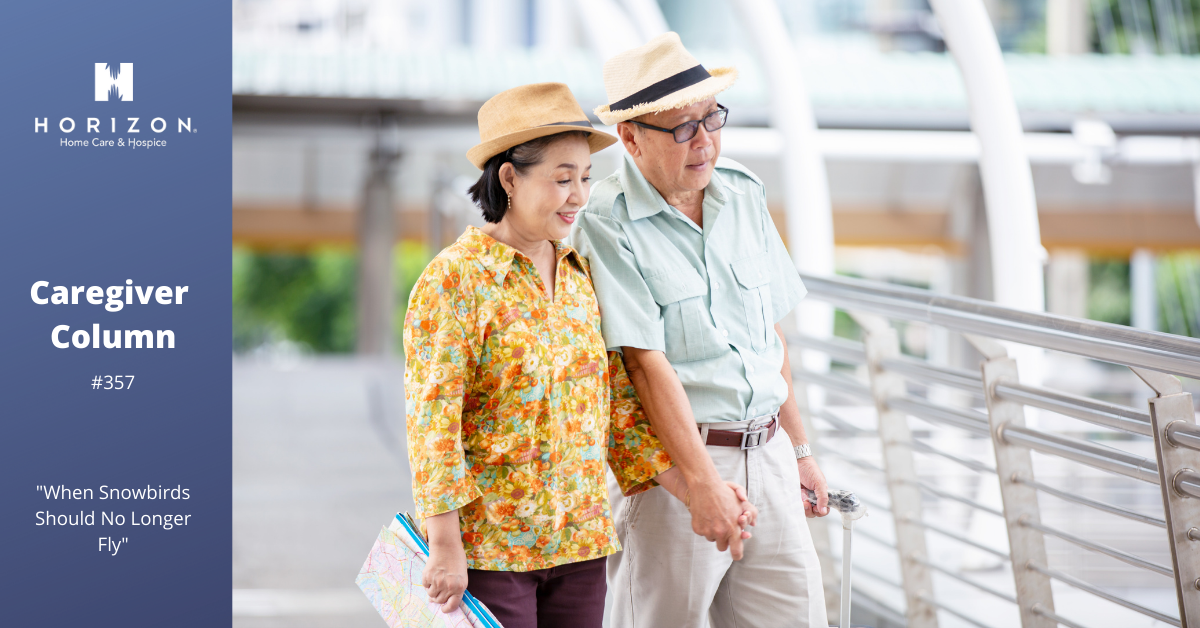 Question
"My parents are snowbirds. They live in northern Wisconsin in the summer, and Florida in the winter. The back and forth is getting harder and harder for them, but they love the lifestyle so very much.
They have a house in northern Wisconsin and a condominium in Florida. My job, the grandkids, and most of the family are in the Milwaukee area. I'm concerned that this snowbird routine won't work much longer. Dad had a small stroke last year, and Mom is having back issues. I don't see them being able to live away from family much longer.
I'm wondering how one knows when to make a transition to living more locally where family is available?"
Answer
The snowbird routine is a common phenomenon for those of us who live in the north. We all know people who are lucky enough to live where the climate is pleasant and move when it turns for the worse. It's usually also something that retirees love to do. Who can blame them for following the sun? If they can afford it, I say more power to them.
As the saying goes, though, "All good things must come to an end." In good time, they will no longer be able to make the journey south or maintain two residences. It happens to everyone. They will get to the point where the yearly switch will not be possible. Most likely, health will be the barrier.
I recommend that rather than worry about it, deal with the issue when it occurs. You can pressure them to make a change while they're still able to do it on their terms, but I'm not sure how important it is to do that. Assuming your parents are cognitively capable, they're well aware of the limitations of their physical conditions. I'm not sure what good it'll do to frequently voice your concerns about their snowbird status.
If they are able, let them enjoy the time they have together traveling south for the winter. They likely have established relationships there, and quite enjoy their time in Florida. When they cannot physically make the trip anymore, be there to help them with a new solution.
Feel free to ask them in a nonchalant way what their plans are for when they can no longer travel south. I wouldn't recommend you bring it up more than twice. The answer you receive will give you a window into their thoughts about the situation. Realize that some older adults are too busy living to plan for the inevitable. Then there are those who plan every detail of their final years. It's a matter of perspective. Some feel more secure planning for the future, and others simply don't worry about what they feel they cannot control. There is no right or wrong to either perspective.
Life is a journey, and your parents have chosen theirs. Do your best to support their choices and assist them when they need your help. It's what you'll seek from your children when the time comes. In the meantime, visit them in the north woods in summer and in Florida during the winter and enjoy the company.
About this Post
Posted 04.02.2022