When Is It Time for Dad to Stop Cooking?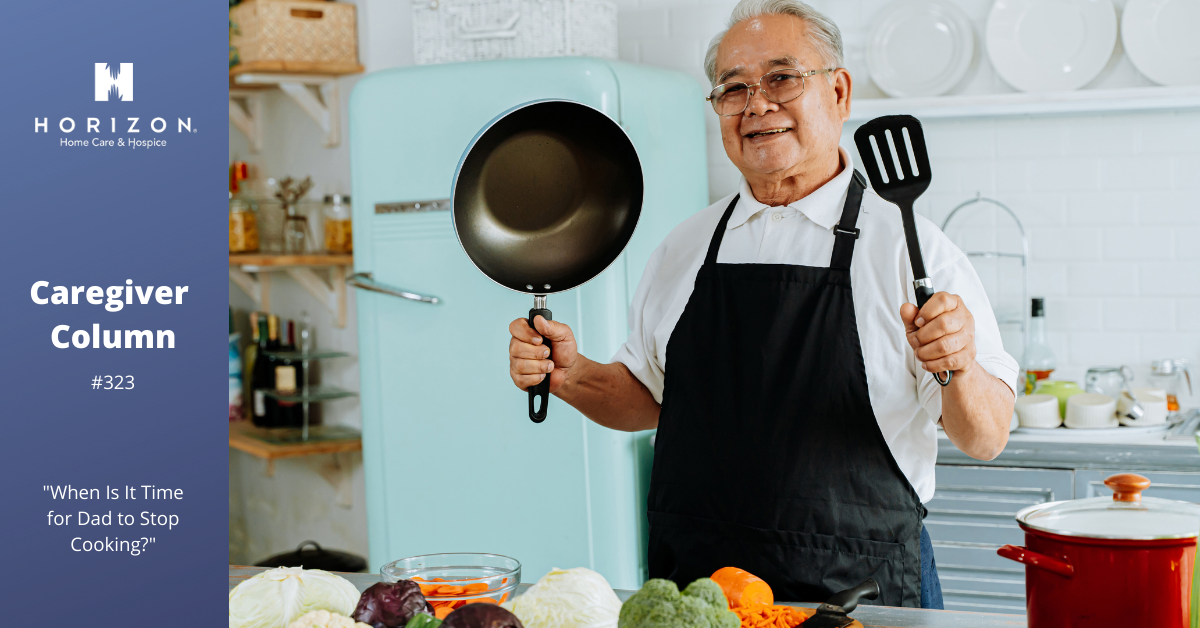 Question
"My siblings and I are wondering when it's a good time to start having meals delivered for our 90 year old dad. We've noticed lately that he struggles a bit in the kitchen with food preparation. Consequently, he eats what is simple, and not always the most nutritious.
We're starting to think that meals delivered each day may be the best option for him. How do we know when the time is right?"
Answer
When a parent stops eating meals because food preparation is too difficult, you are right to pursue an alternate option. As you know, food preparation requires standing, fine motor skills, and movement. The longer someone lives, the more likely they will live with some sort of disability as time goes on. It's quite rare for a 90 year old to have no issues with fine motor skills, vision, or mobility. It's more likely that they will have issues with all three.
To start, watch him carefully when he eats, gets items in the kitchen, and cleans up. Discover what's easy for him and what's not. What steps does he skip or avoid in meal preparation? If he's using a cane or walker, standing for long periods to prepare food is just not practical.
The next thing to do is make his kitchen as accessible as possible. There are steps you can take to make the kitchen easier and safer for him to navigate. Start with cleaning and organization; help him organize cupboards so that the items he needs to use daily are easy to reach and not surrounded by clutter. Either leave top shelves empty, or place decorative pieces on them. Organize his refrigerator. Make his container shelf or cabinet organized with only enough containers, all with lids on them. Clear out utensils and pans he doesn't use anymore.
If your father has vision issues (which are fairly common at his age), it may be difficult or unsafe for him to manage a knife or pour hot liquids. An Occupational Therapist evaluation may offer specific insight to his limitations, and specific solutions for his home. Consider discussing this with his physician, and consider a referral.
Then, help him figure out whether he can get by with prepared foods from the grocery store, or if it's time for home-delivered meals. These days, healthy cut-up fruits and vegetables along with pre-prepared main dishes are readily accessible at upscale grocery stores. If that option works, it's simple and reasonably cost effective. You may have to help him with a meal plan and assist with shopping if you are not already doing that for him.
If meal prep or heating is too much for him, he may revert to unhealthy snacks to sustain him like popcorn and chips. Then it's time to discuss home-delivered meals. They are readily available in most communities and will provide him with at least one balanced meal each day. Most communities call it Meals On Wheels. A quick Internet search of your community department of aging will help you uncover what's available in your town.
This is just another step on your journey that I am certain you will maneuver together. Keep reaching out for information and support. It will help to lighten the load.
About this Post
Posted 08.07.2021