What Should I Get Mom for the Holidays?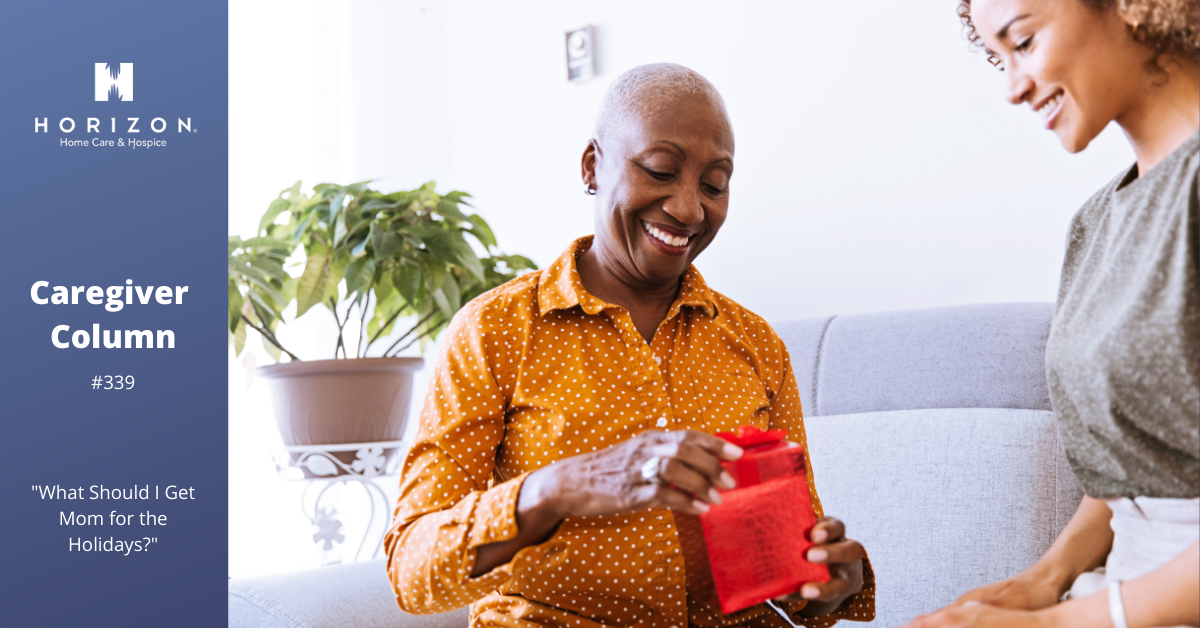 Question
My siblings and I struggle year after year trying to figure out what to give Mom for Christmas. At 90, it feels like we've exhausted all options. We just can't come up with anything good!
Her home doesn't need any more useless decorative items around to collect dust.
You'll probably suggest we just ask her, but that doesn't work. She says she doesn't want or need anything, and she's right.
Please offer some advice on this issue. We want to give her something.
Answer
It is the season for giving, and the elderly are the most challenging group to buy for.
Gift giving is an art, and involves knowing your recipient well enough to understand what they might treasure.
For instance, everyday tools that solve problems can be the best gifts. To get you started, I will give you examples that may inspire:
For loneliness:
take her out to lunch every few months at the local diner
bring dinner once a month to her home
movie tickets
organize game night at her house once a month, with you bringing the snacks
For a crossword puzzler
a mug that keeps your tea warm all day
a crossword book with a large font
a warm, cozy blanket
For a book lover
the latest hard cover novel in large print
a neck pillow that holds your head in position when you sit or fall asleep
a quarterly trip to a book store with gift certificates to spend
a scrapbook with lots of photos of the grandkids, holidays, etc.
For the cook
lightweight mixing bowls
single serve freezer-to-microwave containers
quality cooking tools with easy grip handles
For hygiene
an electric toothbrush
a water pick
a brushed nylon nightgown
warm, thick socks to lounge in
Around the house
firewood
light timers
a camera doorbell that you install
The list could be endless; I'm just getting you started here. Watch your mother carefully, and make just one aspect of her life better than it is. My secret is to upgrade something they already have. Throw in a little love and thought--it makes for the absolute best and most appreciated gift.
About this Post
Posted 11.27.2021