Volunteer Stories: Dr. Kim Young
Dr. Kim Young has spent most of her life's work bettering the lives of young people.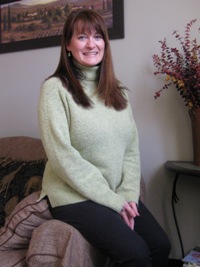 In 2002, Dr. Young co-founded Family Options Counseling, an innovative mental health agency providing specialized psychological care to children, adolescents and families. As a licensed psychologist, she enjoys the challenges and rewards of working with high risk youth and those who have suffered trauma.
This line of work makes sense given that Dr. Young describes being raised to be "community-centered." Her mother, Bonnie, was a hospice volunteer in Roanoke, Virginia, delivering Meals on Wheels and serving as a "Friendly Visitor"-- someone who provides therapeutic communication, companionship and/or respite to in-home hospice patients and their families.
But after nine years of hospice volunteer service, Bonnie fell ill and became a hospice patient herself.
"I knew how important the work was from her time as a volunteer," says Dr. Young. "But when she went to hospice herself, I was really able to recognize how meaningful it is to have volunteers helping people in their time of need."
When her mom passed, Dr. Young promised to keep her work going.
She now volunteers at Horizon Home Care & Hospice as a Friendly Visitor, making connections with hospice patients through conversation and keeping company, and helping with various tasks. "You have to be open to people's needs, and you want them to feel like they have something to look forward to," she says.
Volunteering is a total family affair, as Dr. Young's husband, Rob, and father, Roger, also give their time to hospice patients.
She recommends it to all hoping to build meaningful relationships. "I truly believe hospice is making a difference."
So when Dr. Young goes from counseling kids to spending time with a hospice patient, her skills and purpose do a lot of crossing over.
"I get to work with a whole different population than I do in my day-to-day, and they don't let me forget that life's journey…it continues on."
About this Post
Posted 02.20.2020
Latest on the Blog...
Caregiving Advice
Nov 26, 2022
Caregiving Advice
Nov 19, 2022
Caregiving Advice
Nov 12, 2022