Should Dad Be Traveling at His Age?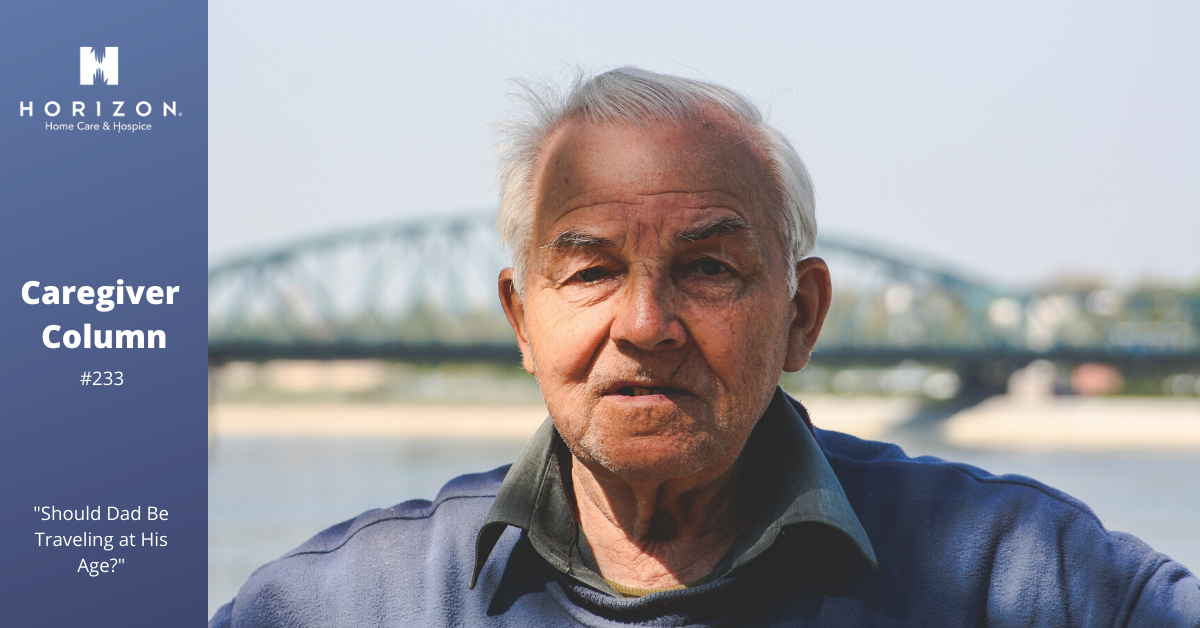 Question
"My father is 84 and still traveling the world. Though he goes with tour groups, each time he comes home he mentions the difficulty he had keeping up with the group, navigating the terrain, or tolerating the food. I have noticed that dad has more difficulty walking than in the past; he seems less steady on his feet and moves slower than he used to, though some of that is expected with age.
I worry that I will receive a call from a distant location that dad has had an accident or has passed, and I won't be there for him. I do not want to discourage him from doing what he wants, yet I wonder if I should. When is it time to stop traveling?" - READER
Answer
The answer comes from your father. He will stop when he feels he has had enough or is unable to handle the rigors of travel.
The wonder of travel is seeing new things and having an adventure, but it also comes with unknowns. The more interesting the location, the greater the likelihood of challenges.
And travel exacts a toll on everyone, regardless of age. Airports are not simple places to navigate, even with assistance. One must lift luggage, pay attention to shifting gates, and stay attuned to a variety of other things--and that is all before leaving town.
Most figure out on their own when they are finished with travel to new locations, and begin limiting travel to places they have been before. It sounds like your father has not yet reached that point. It is likely that he is going with other seniors that also move a little more slowly. Tour operators that guide seniors are used to the slower pace and prepared for the challenges.
Now, as to the likelihood that you will get "the call" from some distant location--it is possible. Do know, though, that your father is living and doing what he wants to do. If you get that call, you will deal with it as it happens. In the meantime, be grateful that your father is out there living his life.
TRAVEL PREP
I have a few suggestions that might ease some of your concerns:
Make sure that your father has the lightest suitcase with the best wheels.
Take him to a sporting goods store and have him fitted for sturdy hiking shoes. It will make uneven terrain much easier to navigate. They are not inexpensive, but are worth the money.
Make sure he gets the appropriate vaccinations, and a flu shot.
When flying, tell dad to stand every hour and make sure to drink water even though it will require trips to the restroom. Blood clots are more likely in the elderly.
Recommend that dad avoid travel when it is very hot.
Secure travel insurance and verify what his current health insurance covers outside of the area in which he lives.
Get as much information about the trip as you can before he finalizes it.
My primary recommendation is that someone from your family accompany your father on a trip. You will have firsthand knowledge of how he does and what you can to make traveling easier for him.
Travel sounds important to your father, and you do not want to discourage something he loves. Try to figure out a way to help him do it as long as he can. It may take a little bit of investigation, and possibly a joint adventure.
Happy travels.
About this Post
Posted 11.23.2019