Protecting a Traveling Father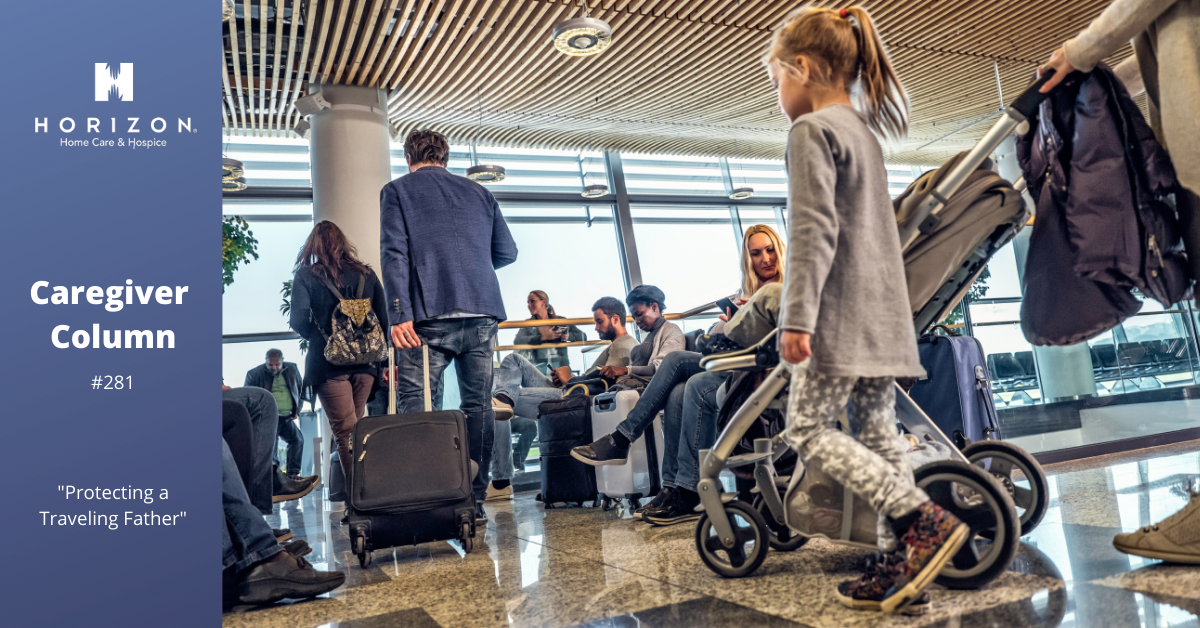 Question
"My 90-year-old father is a snowbird and this is the month he travels to Florida. He will be wintering in the south, so this is a one-way trip for now. My concern is him traveling at all from one home to another during this pandemic. His trip requires air travel, as he cannot spend two days in a car. The flight is only two hours.
My brothers and I are wondering what the best way is to ensure his safety from contracting COVID-19 while he travels to his winter residence. (Lucky guy, right?)"
Answer
The great snowbird migration begins now and your father is lucky to be part of it. You are very smart to be looking into ways to keep him safe in the process. You definitely do not want him to become a statistic right now, with hospital beds filling to capacity.
Since your father is traveling by plane, it's quite easy to visualize his trip and assist him to plan the necessary precautions. Here are suggestions for his journey:
Purchase a securely fitted mask. I would consider an N95 that is fit tested. But since that's generally only available through a health care organization, substitute by locating a mask that fits snuggly on his face. Look for a mask with two straps that is labeled N95 or KN95. Look for a nose clip. Try the mask on. Air should not come in at the top, on the sides, or under the chin. When he inhales, it should feel like the air is coming though the mask, not around it.
Practice taking on and off his mask without touching the front of it.
Pick a seat without someone next to him, if possible.
Since the flight to Florida is short, dad should have a meal before he leaves for the airport. He will then not need to eat while in flight.
Allow a little bit extra time. Walking, bending, getting through security is all a bit more difficult with a mask on. Just putting on your shoes while wearing a mask is harder.
Your father needs to place his mask on at the time he enters the terminal and leave it on until he leaves the terminal in Florida.
Avoid touching the face mask during the entire trip.
If your father touches his face mask, he needs to clean his hands with hand sanitizer.
Practice proper hand washing in a sink and with hand sanitizer.
Continue wearing the mask if using a taxi or public transportation to his home once arriving.
When he arrives at his winter home, suggest that he remove his mask, wash his hands carefully, remove his outer clothing and place his clothes in the laundry. He should then wash his hands carefully and don fresh clothing.
I realize that it is quite a lot to remember. Print out these reminders if need be.
I do believe that he can travel safely if he prepares to do so with reasonable precautions and diligence during the flight and in the airport. It will be a bit more challenging and less comfortable, but very for a determined individual.
I hope his wintering in the south is enjoyable and safe.
About this Post
Posted 10.24.2020