Patient enjoys pizza for first time in 55 years thanks to Horizon hospice care team
Celiac disease kept one Horizon patient away from pizza for 55 years.
Earlier this fall, she was finally reintroduced to the delicious food thanks to her Horizon hospice care team and a gluten-free crust.
"It was marvelous. It tasted like heaven," she said.
HP was able to enjoy pizza for 10 years, give-or-take. She remembers having it for the first time in college, when her pals offered her what they called "pizza pie." It was disconcerting at first, as she expected a sweet treat, with that name. But she quickly learned to enjoy it.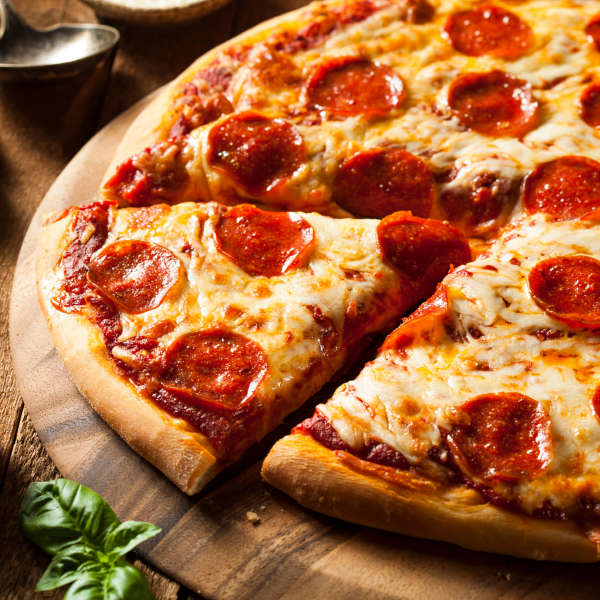 That is, until she began experiencing stomach issues. HP has what we now know to be Celiac disease – an immune disease in which someone can't eat gluten, a protein found in wheat, barley and rye. At the time, though, doctors didn't understand the illness. The patient knew, however, that her diet would never be the same. She would not be able to eat things like pizza.
Fast forward to the present day, and countless brands produce gluten-free products. But HP never knew this. She had given up checking the bread and frozen pizza aisles at the grocery store long ago.
When HP's Horizon care team learned that she had yet to try any gluten-free confections, they wasted no time. On Health Aide Katie's annual trip to Wisconsin State Fair, she brought back a gluten-free corn dog and funnel cake. RN Care Coordinator Jennifer picked up the pizza. Then, the three of them shared a moment 55 years in the making—a reintroduction of sorts.
"Tasting pizza again was like a little miracle," said HP. "It was so special to have as a treat."
The experience brought tears to her eyes, not just because the long-awaited pizza was so good, but because her care team took the time and effort to make it happen. She said that Katie and Jennifer didn't just go the extra mile, but "an extra 100 miles."
"They show so much empathy and joy, and they spread it around," said HP. "I wish everyone could experience their expertise and kindness."
"It's overwhelming. I'm so grateful."
About this Post
Posted 12.03.2021
Latest on the Blog...
Caregiving Advice
Jan 21, 2023
Caregiving Advice
Jan 14, 2023
Caregiving Advice
Jan 7, 2023