Nurse Residency program at Horizon supports new RNs with a home health focus
There's a learning curve that comes with every new job.
The nursing profession is no exception. It's also ever-changing, as seen in recent years during the COVID-19 pandemic. Yet, new RNs must make the leap from student to frontline worker immediately.
Horizon Home Care & Hospice is helping to ease the transition. As of August, Horizon offers a new Nurse Residency Program to provide continuing education and support for RNs embarking on their careers post graduation.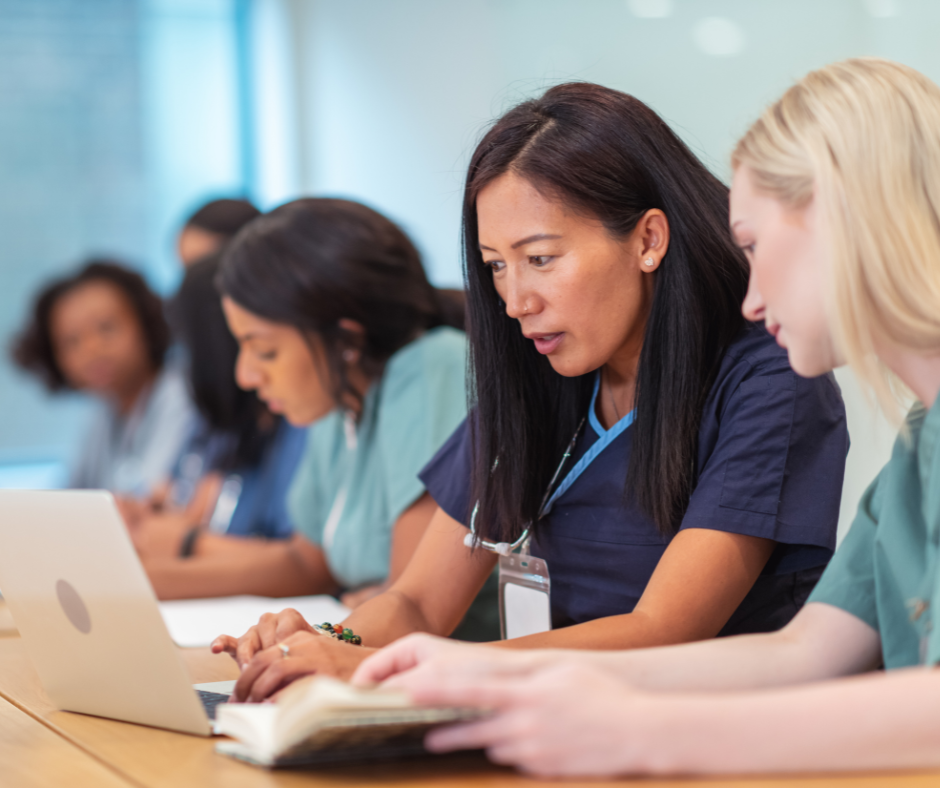 For at least six months and up to one year, the Nurse Residency Program consists of monthly one-hour sessions with Horizon staff. As new RN participants begin their work out in the field, the program simultaneously addresses gaps in their clinical knowledge, and improves their critical thinking and decision-making skills.
Sessions are multi-modal, with some more focused on lecture and discussion and others offering nursing simulations. Each zeroes in on a different topic, such as "teamwork and collaboration," "infection control," "patient-centered care" and "informatics."
"New RNs graduate knowing how to be a nurse, and so one of the goals of this program is to teach them how to think like a nurse," says Clover Crowder, Horizon RN Educator and lead creator of Horizon's residency program.
Another goal that's just as important, says Crowder, is socialization.
"The research shows that new RNs feel alone. They shouldn't have to jump right into a new career, feeling like there's no one to turn to for help."
Crowder says that being able to ask questions and share experiences with one another creates a sense of community that goes a long way in preventing burnout.

Horizon leads the way with home health focus
As work began on the program, Crowder and her colleagues realized they could address another need: a nurse residency program with a home health focus.
Home health is a growing field of nursing, as research shows more and more patients prefer care in their own homes. There is a reduced risk of infection, and it helps patients maintain independence, allowing them to stay at home versus moving to a nursing facility. Another key reason for the growth of home health is convenience, especially for those who require care on a consistent basis. Therefore, the program addresses how to approach chronic disease management from both palliative and end-of-life standpoints. It's also discussed how to focus critical thinking skills specifically toward the goal of keeping a patient living in their own home for as long as possible: coordinating other necessary care, modifying the home environment to improve safety, etc.
Horizon's Nurse Residency Program, with this home health focus, is the first of its kind in southeastern Wisconsin and beyond. It's following the American Nurses Credentialing Center's (ANCC) ongoing and rigorous process for accreditation.
Sharon Serwe, Director of Education at Horizon, isn't surprised. "It's very typical of Horizon to lead the way." Two years ago when Quality Assurance and Performance Improvement (QAPI) programs became required, they helped other organizations with their processes, as Horizon has had its own in place since the start of the agency in 1990. Horizon's Grief Resource Center is also the only of its kind in Wisconsin, providing short-term grief counseling to the community, free of charge.
So the Nurse Residency Program is yet another innovation that makes Horizon stand out. "This program is transformational, and will really take Horizon and new nurses to the next level."
For Serwe, a nurse of 40 years, it's also an opportunity to be a mentor.
"These RNs are the next generation. The profession carries on, better than when I started. It's exciting to watch, and to give back."
About this Post
Posted 09.19.2022
Latest on the Blog...
Caregiving Advice
Sep 30, 2023
Caregiving Advice
Sep 23, 2023
Caregiving Advice
Sep 16, 2023