Mom Refuses to Use a Motorized Cart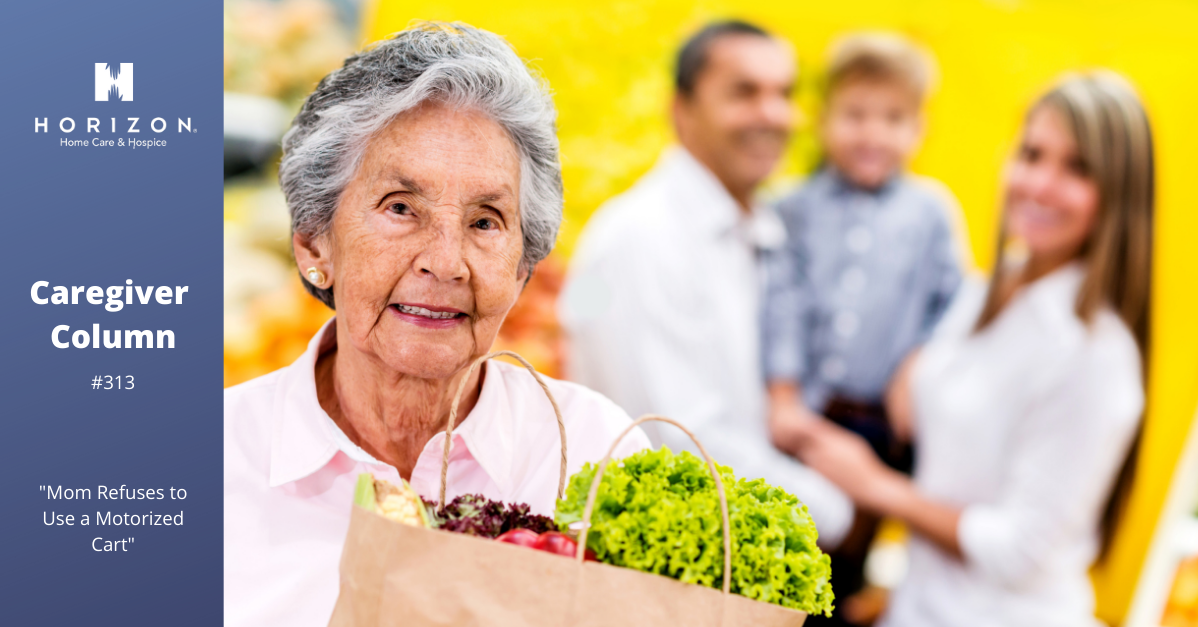 Question
"My 88 year old mom refuses to use the motorized cart at the grocery store, yet she really needs it to get around safely.
My theory is that she's afraid of looking disabled, and would rather hobble about in pain. My fear is that she'll injure herself or someone else because she's so unstable. I also don't want her to knock over any displays.
I've never used one of those motor carts, but they don't look too challenging. How do I get Mom to give it a try when she shops?"
Answer
Your mother is not that unusual. She is likely responding to what she witnesses at the store. If her friends or other elderly folks don't use the motorized carts, she may not want to be the one who does. It'll be a harder sell to convince her if she doesn't feel on par with her peers.
Have a conversation with your mother to confirm the reason she is so resistant.
If it is indeed that she finds it difficult to accept her limitations because she watches others her age move about easily, getting through to her will be challenging. Looking able is important to all of us. It's a pride thing.
If she's afraid to operate it, you could use the cart first and show her how. If she feels the cart may be unsafe, or place her at greater risk of hitting someone, the solution may be ample practice.
As long as she insists on walking, what you could do is keep a hand on her grocery cart while she holds onto it and pushes it along. That way, she maintains her independence, but you are right there. That's as safe as she can possibly be in the situation.
If she enjoys grocery shopping, she'll want to go to the store for as long as she can. Hopefully you or another family member or close friend can accompany her. Make sure she's aware of her options when she reaches the point that navigating the store as she wants is impossible. Who knows, she may just choose to go with curbside pickup or home delivery at some point! Both are options that even fully abled adults use regularly these days.
It's wonderful that stores provide children's carts, baskets, mini carts, full sized carts, and motorized carts. They definitely try to look out for everyone. I hope that you and mom will find a solution that works for her.
About this Post
Posted 05.29.2021
Latest on the Blog...
Caregiving Advice
Dec 2, 2023