Is Thanksgiving Too Dangerous for Dad?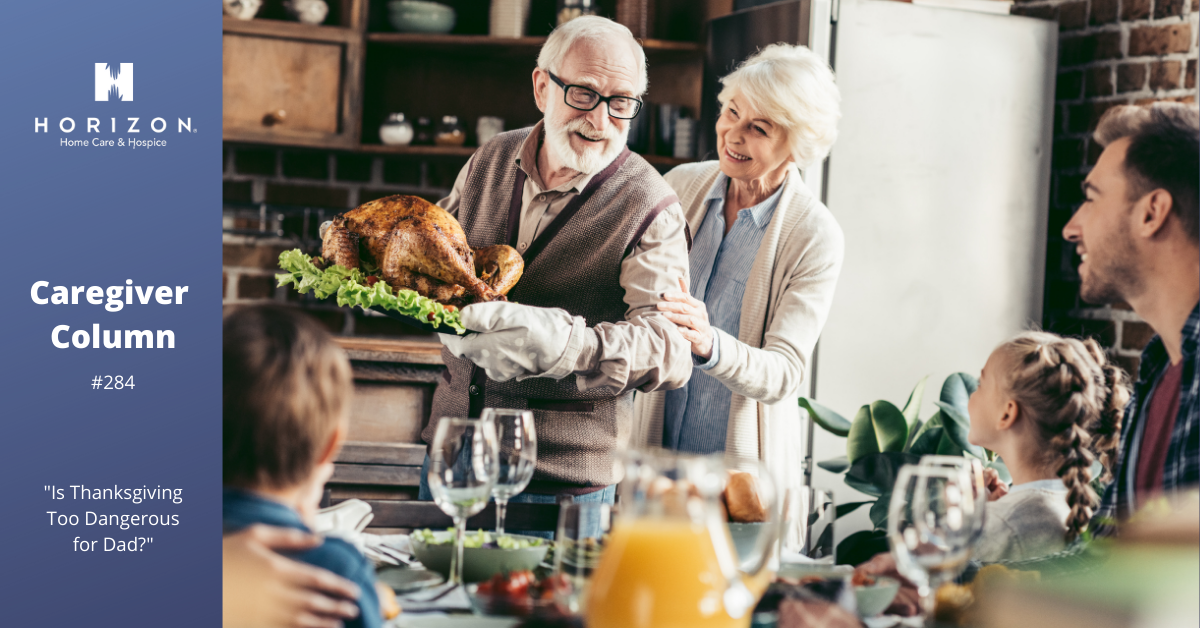 Question
"My family refuses to cancel Thanksgiving, and I'm super worried about my father. Dad is 85 years old and in marginal health. He has COPD and he is a big guy--by that I mean over weight. He does not get around very well, and I think he's at risk.
My siblings love big family gatherings and are planning on proceeding as though nothing is going on in the world. Frankly, I think they are clueless. Anyway, about 30 people are planning to gather, which includes my father.
How do I go about protecting dad at this event that is being held in a medium-sized house?"
Answer
Thanksgiving is such a wonderful holiday for families, and I completely understand the desire to gather. What to do about Thanksgiving is a dilemma for most families this year, even those without an elderly parent, aunt, or uncle to worry about.
Many families are planning to gather as normal. I believe that we all have COVID fatigue at this point, which likely explains our desire to throw caution to the wind. Back in March and April, the streets were deserted, restaurants were empty, and gatherings of any kind were non-existent. COVID was new and very scary. Schools, restaurants, stores, and some events have returned with revised rules.
Some families have not been touched by COVID, and may have dropped their guard because of it. Others may have had a loved one with COVID who wasn't seriously ill. The combination of mixed messages seems to be driving behavior across the land.
The fact is that COVID infections are rising. In fact, they are occurring in record numbers right now. Frankly, everyone should be very, very careful at this time--more than we were in March and April. The reason is that there are more infected people in the population than there were in spring, so your chances of being exposed are greater. It is simple mathematics.
Regarding Thanksgiving, I agree with you. Your family should avoid the large gathering and have Thanksgiving dinner at home with only household members.
The Centers for Disease Control and Prevention (CDC) recommends that celebrations ideally are limited to members of a household. Access this website for the CDC recommendations: https://www.cdc.gov/coronavirus/2019-ncov/daily-life-coping/holidays.html. The CDC is not going to send people to your door to count individuals gathered in your home. You are free to do as you wish. But know that it is ill-advised to hold the gathering that your family is planning.
If you do decide to attend a family gathering, or take your father to one, understand that you are doing so against the advice of experts. Protecting him in a crowded home is extremely difficult. Measures to take to offer some level of protection are:
Wear a mask at all times other than while eating (that may be very tough on Thanksgiving).
Do not sit shoulder to shoulder for a meal. Use a very large space and keep non-household members more than six feet apart.
Keep the event short. This will require a change in your usual routine.
Use the outdoors.
Keep the airflow moving by opening windows on opposite sides of the house.
Screen guests the morning of the event to make sure they have no COIVD symptoms or have not been exposed in the last week to someone with COVID.
Provide ample, fresh hand towels in the bathroom so guests do not share.
Keep the sound down so guests do not need to speak loudly or shout.
Consider pre-plating food to prevent passing and sharing of utensils.
Planning safety measures is what a reasonable host would do to protect Thanksgiving guests. It would be far better to cancel the gathering, or alter the celebration to keep everyone safe. A large, in-home gathering is going to be risky this fall, even if you prepare.
Have a wonderful Thanksgiving.
About this Post
Posted 11.14.2020