Is Takeout Food Safe for My Father?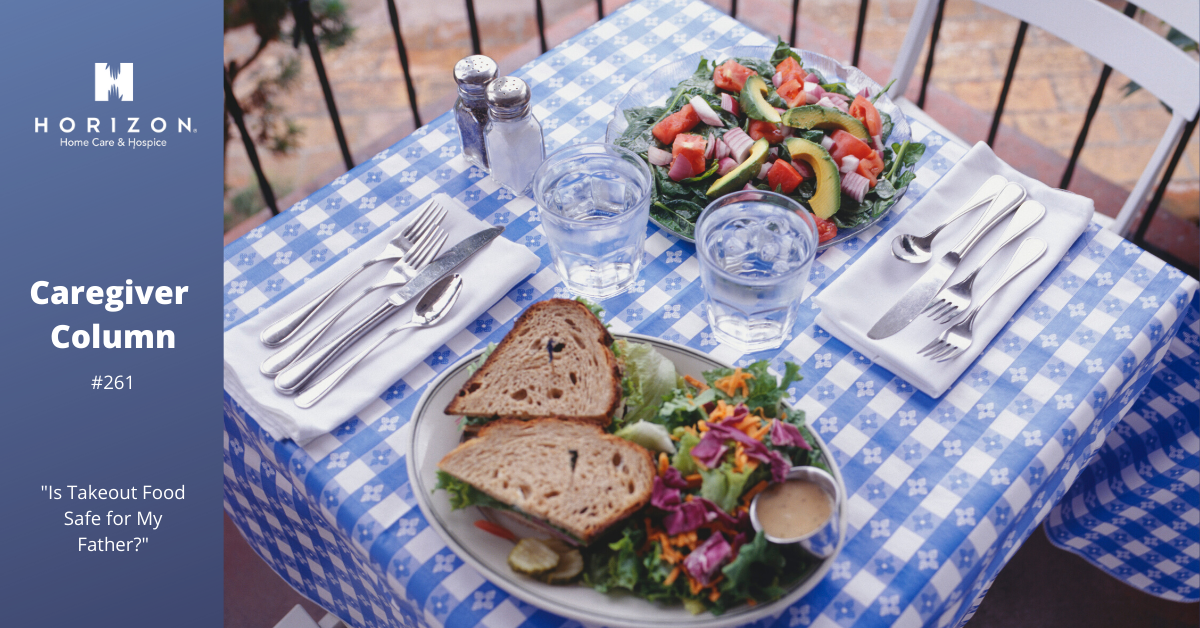 Question
"My 85 year old father loves to dine out. The hardest thing for him has been to stay at home and miss his bi-weekly gathering with friends at the local diner. He's not big into computers, so Zoom and similar applications are a bit of a mystery to him.
I thought that we might pick up food at the diner and invite a friend or two of his over to sit on the patio. I'm wondering if takeout food is completely safe, with the coronavirus still going around. Would you please weigh in on ordering takeout?"
Answer
I love your creativity. Now that summer has arrived, there are many more options for us northerners compared to in the winter. Dining outdoors with appropriate distancing is a wonderful choice for your father and his buddies.
Help your father set up his patio or deck to provide at least six feet of distance between him and his guests. I recommend even more distance when outdoors to account for potential wind that could blow particles toward one person or another.
When he extends the invite, he should mention how he plans to protect everyone. He needs to mention the masks, and the distancing. Secure enough masks, in case his friends don't bring their own.
Now, the food – many restaurants have been offering takeout food during the past few months. From all the literature I've read and the experts I've listened to on almost a daily basis, there has not been concern about COVID-19 being transmitted via food. While 100% safety is impossible to ensure, I believe you can feel reasonably safe in ordering takeout for your dad and his friends. He will also be supporting local businesses in an industry that has been hit very hard during this pandemic.
I think you're being thoughtful and careful during a time when your father is in a high- risk population. It will be hard to continue that when normal activities resume. The virus is still with us and there is very little immunity; his risk is still very high. Your idea of a patio gathering, if orchestrated safely, is delightful. It will help him resume some prior activity and protect him from a virus with an unacceptable mortality rate for the elderly.
Have some fun with your plan and stay safe.
About this Post
Posted 06.06.2020
Latest on the Blog...
Caregiving Advice
Dec 2, 2023