How Will Mom Handle Halloween at Her Age?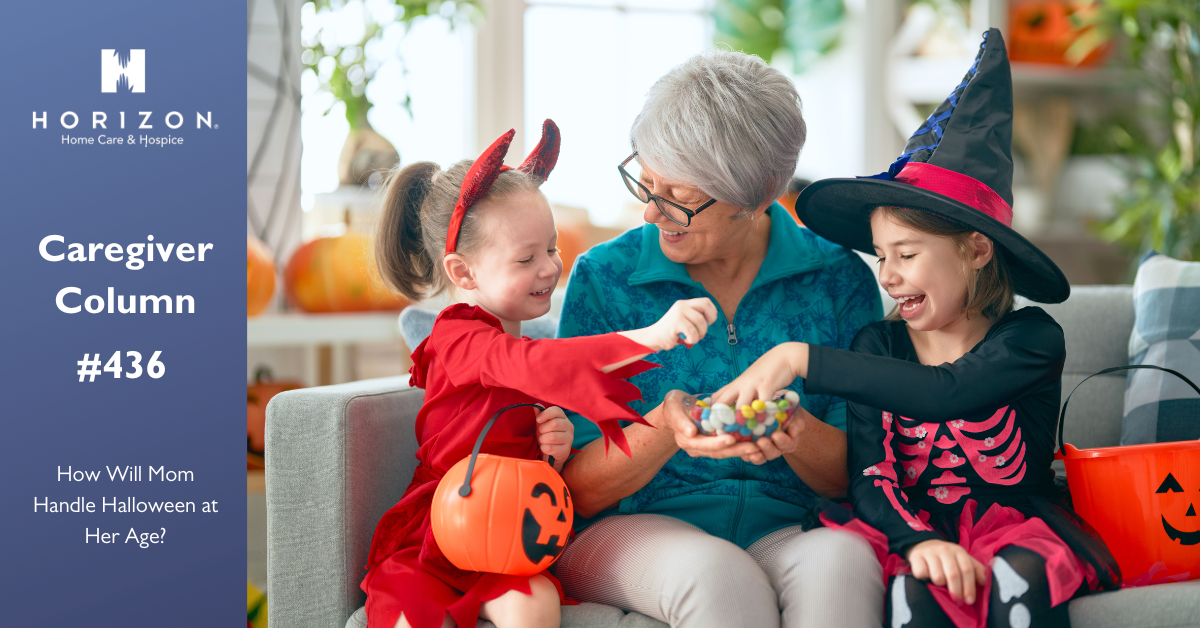 Question
"It's difficult for my mom to manage Halloween at her age, and she feels bad about that. She's lived in her neighborhood for over 60 years and knows all her neighbors, so she wants to be part of the joy this season has to offer. She just can't handle getting up so frequently to answer the door, and her dog goes nuts.
At 88 years old, she's in reasonable health, just not as mobile as in the past. I live in another town about an hour away, and we have Trick or Treat at the same time.
I did wonder if Mom could just turn out her lights and skip Trick or Treat this year. It would be less stress on her, and me too, not having to worry about her falling. But I can tell that not participating would make her sad.
Do you have any other ideas so that Mom can take part in this holiday?"
Answer
Halloween has become quite the holiday in this country. People now decorate their homes for it as much as they do for the Christmas season. If one doesn't participate, there is a feeling of missing out.
It's wise to know your limitations, and those of your mother. With that said, I believe there are ways to enjoy Halloween at any age. It's going to require some out-of-the-box thinking.
Here are some suggestions:
Ask a neighbor to set up a chair on the porch or at the end of the driveway for your mother to sit in. Then ask the neighbor to carry her bowl of candy out to her and return both the bowl and chair to the house when everything's finished. Make sure Mom has warm outdoor clothing and maybe a blanket so that she can be comfortable for a few hours. For extra fun, loan your mom a silly nose, hat, or other simple item she can wear.
Have your mother leave her bowl of candy on the porch. She can then sit just inside the doorway and wave to children who come by and let them know how many pieces to take. She can still wear a costume or play festive music in her foyer.
There are less fun options, as you hinted. She could give her candy to the neighbors to give out instead, or she could refrain from participating at all.
Make sure that with Mom's dog, she has a plan for how riled up it might become from all the doorbell ringing and strangers on the porch. Some dogs are best in their crates for this holiday, while some are quite chill and can sit right with Mom as she doles out the treats. Just assess the situation and plan.
The ideas for making Halloween fun and easy are endless. The elderly need not be excluded because they're less able. It just takes some planning and accommodation, and promises to provide memories, so I believe it's well worth it. The two of you can plan together—another plus.
I wish you a fun Halloween!
About this Post
Posted 10.07.2023