How Do I Convince Dad He Needs More Help?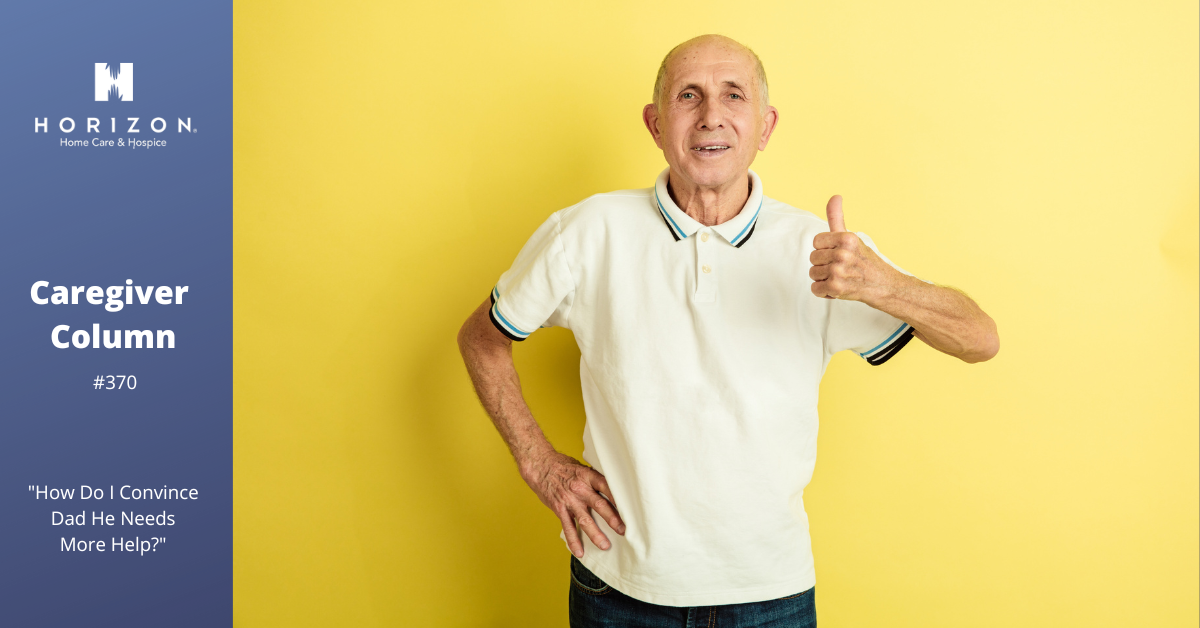 Question
"I'm wondering how to know when the best time is to start care in the home for my Dad. Dad lives alone and requires some help with housekeeping, laundry, good meal preparation, and errands. Bathing doesn't seem far behind.
The thing is, I stop by as frequently as I can, which is about twice a week. With work and the kids, it would be difficult for me to check on him more frequently without running myself ragged.
Do you believe it's time for some help in the home? How would I convince Dad that it's a good idea?"
Answer
The majority of us won't die suddenly—heart attack, stroke or accident make up under 25% of deaths—so we will require extra assistance as we age to stay in our own homes.
I believe the best way to approach the subject with your dad is head on, with kindness and determination. Let him know you will continue to handle what you've been taking care of, and that more assistance is needed.
Have a conversation about what his choices are for his ongoing living situation. Does he desire to stay in his home, and pay for extra services? Or, is he more interested in an elderly complex where yards are managed, meal options are available, and care is offered when needed?
Money is always a consideration when talking about elder care. I recommend making a few calls to find out what home care, apartment, condo, and assisted living costs are in your area. When you and dad start the conversation, you'll already have information to help the decision making process. Make sure to also find out about waiting lists. These days, there is a shortage of everything, and waits for most services. You may need to be on several lists to secure options when you need them.
Unless your father already purchased long-term care insurance, there will be a significant out-of-pocket cost to care. If he's resistant to that cost, you will have to do some convincing. It's one of life's big challenges. You are not alone; all of your friends, coworkers, and neighbors are dealing with the same challenge or have already dealt with it.
Preparing now is forward thinking and a great idea. You're on the right track, even if it may take multiple conversations to figure out what level of support is best for your father. Do be patient and persistent. Throughout the process, stay close to your father and be present. Outside caregivers are not you, nor can they replace you.
I wish you well on your journey with your father.
About this Post
Posted 07.02.2022