Horizon's Response to COVID-19
Horizon is taking a defensive posture when it comes to the protection of patients and employees in order to prevent the community spread of COVID-19.Staff is expected to wear eye, nose, and mouth protection when they are within six feet of a patient, whether or not they are suspected to be ill with the virus.
We provide repeated and daily education to all staff on how to prevent the transmission of the virus. This includes how to meticulously wash hands, use masks/gowns/goggles and how to keep safe inbetween patients. Prior to our visits, we ask patients and household members if they are experiencing any symptoms or have been tested.This allows us to determine how to provide care within the home.
All staff carry N-95 respiratory masks in the event a patient or household member has a confirmed or suspected case of COVID-19.
We are here to care for you and are doing everything within our ability to protect you. We screen staff daily for signs of infection and are committed to keeping them safe. We are doing the same for you. We appreciate your understanding and cooperation during these times. I believe that if we all pull together, this pandemic can come under control.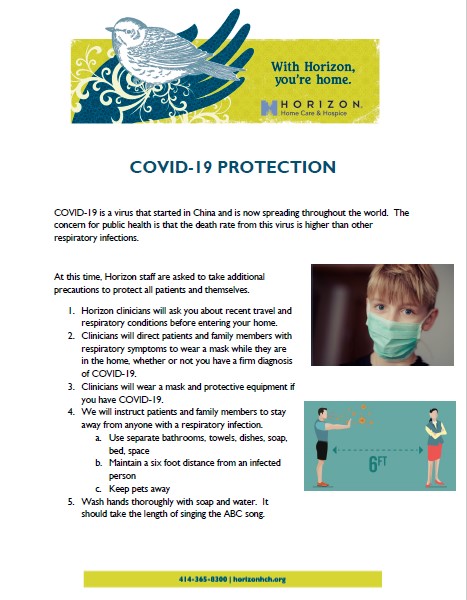 Click on the image to view our COVID-19 patient tipsheet.
About this Post
Posted 03.19.2020
Latest on the Blog...
Caregiving Advice
May 14, 2022
Caregiving Advice
May 7, 2022