Grandma Doesn't Make Cookies Anymore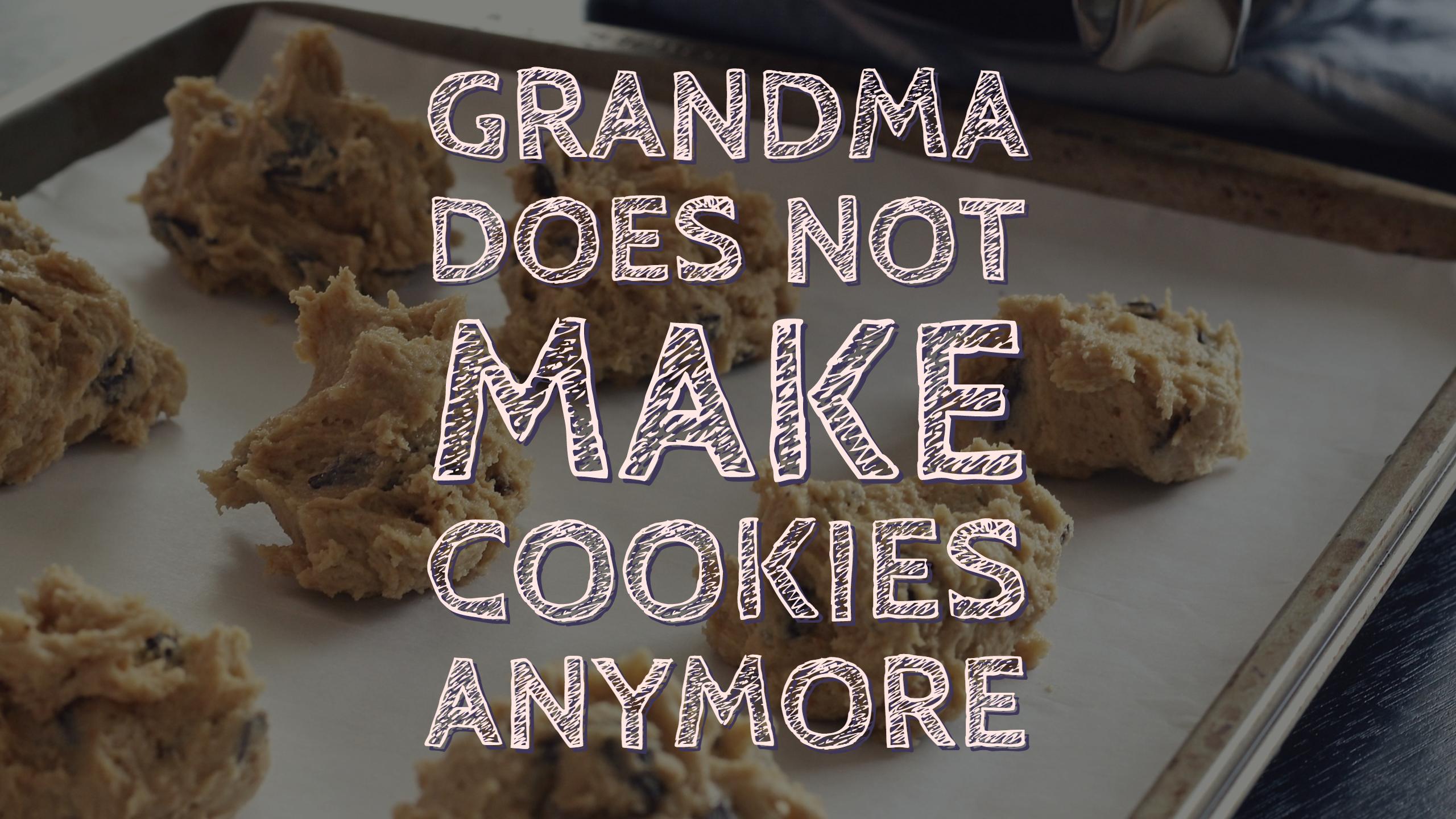 Sometimes the smallest changes can impact us the most.
Grandma's cookies always seem to be the best. They may be a family staple or part of a tradition, celebrated and enjoyed upon each and every arrival or departure from Grandma's house. Even the smell of cookies nowadays reminds you of good times you cherish to this day.

But when Grandma either stops making - or is no longer able to make - these edible treasures, this relatively small change can rattle you in ways you didn't expect. This transition highlights her aging process and can trigger a sense of loss in you. This loss is real and makes you realize things are not going to be the same. A little bit of grieving is normal and natural.

Here is what's happening.

Grandma is inevitably passing the role of caregiver onto her children.
Things may be more difficult for her. It is likely that standing in the kitchen has become a bit too much for her. Maybe she does not feel safe moving hot pans in and out of the oven. It is possible that she does not want to lug heavy flour and ingredients from the store. Perhaps she does not have enough visits to consume what she makes. Whatever the reason, Grandma does not not have the treats you so fondly remember. You must understand that the baton has passed, and you can even use this as an opportunity for someone to accept the hand off. You do not need to ask Grandma where the cookies are.

Instead of dropping in at Grandma's in order to be fed and taken care of, it is now your turn to bake the cookies and bring the treats. Make sure that Grandma has some homemade items for her guests. Maybe you can make some of grandma's recipes? It is such an honor to have your children carry on your traditions. Go ahead, ask Grandma what her favorite cookies or dishes are, and ask her for the recipes. It can be a shared experience as you attempt to replicate the cooking she has done over the years. Grandma will enjoy the dialog and interaction. From personal experience I can say it gives a great deal of pleasure to us as parents and grandparents when our descendants make some of our favorite recipes and consult us for advice.

So I encourage you to accept the baton and continue the race, allowing Grandma to share in your learning and success. You will both enjoy the journey, and your lives will be richer because of it.
About this Post
Posted 12.31.1969
Latest on the Blog...
Caregiving Advice
Jan 21, 2023
Caregiving Advice
Jan 14, 2023