Golfers putt, chip and drive in support of the Grief Resource Center at Golf Fore Horizon 2022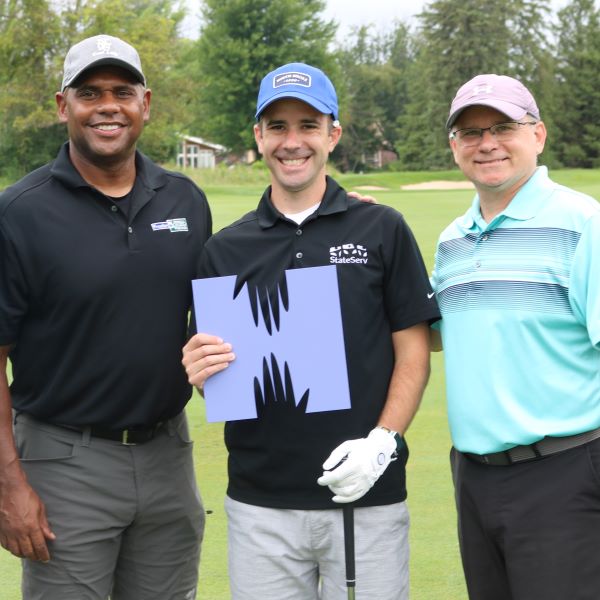 Not even a wet golf course could stop Horizon Home Care & Hospice's fourth annual golf outing.
Our brave golfers, sans golf carts, hit the links for a day of fun and fundraising for Horizon's Grief Resource Center.
Along with playing 18 holes, golfers had the opportunity to participate in putting contests and hole-in-one challenges. The drone ball drop was a fan favorite again this year, and attendees also got the chance to bid on numerous silent auction packages, from Bucks memorabilia and Brewers tickets to "girls night out" and "summer barbecue" bundles.
The proceeds of this event support the amazing work of Horizon's Grief Resource Center. Each year, the GRC touches the lives of almost 6,000 people who have experienced the death of a loved one, a divorce, or grief of any kind. It does this in many different ways, like through short-term individual and family counseling, support groups, educational workshops, wellness activities, a resource library, a serenity garden and more.
All of these resources are free of charge to anyone in the community who needs it. The golfers, sponsors and other attendees of Golf Fore Horizon keep this important work going through their generosity.
A huge thank you goes out to our Eagle Sponsor, Majic Productions. We are so proud to partner with you on our events, and we're grateful for your continued support. We wouldn't have it any other way!
We very much appreciate our Birdie Sponsor, Delta Care! With your generosity, our Grief Resource Center will continue to help so many.
Our Hole Sponsors are rock stars: AAA, Action Graphics, Bell Ambulance, CVI, David Hobbs Honda, Integrity Wealth Management, North Shore Healthcare, Orthopaedic Hospital of Wisconsin, StateServ, Hospicelink, Su Casa Grande, Newcastle Place, TheKey, Vizance, and von Briesen & Roper. Each of you made a huge impact on the success of the event and we couldn't have done it without you.
We love our Par Sponsors: Mary & James Haynor, Susan & Zoan Kulinski, Coleen & Eric Schmidt, Network Health, Oasis and Concordance Healthcare Solutions. Your help makes a big difference to Horizon.
Our Bloody Mary Bar Sponsor, Sendik's, provided such delicious drinks. You came in clutch, thank you!
The event committee worked for months to make this event special and they sure did that! Thanks to Dave Arnold, Dana Ehrmann, Heather Harry, Kris Hobbs, Raph Horvath, Heather Pechacek, Jeannie Shetler and Marcy Stutzman.
And last but CERTAINLY not least, our volunteers brightened everyone's day and also kept things running so smoothly. As always, you are an integral part of Horizon's mission. Thanks to you!
About this Post
Posted 09.01.2022
Latest on the Blog...
Caregiving Advice
Dec 2, 2023