Do I Deserve Time Off from Caring for My Mom?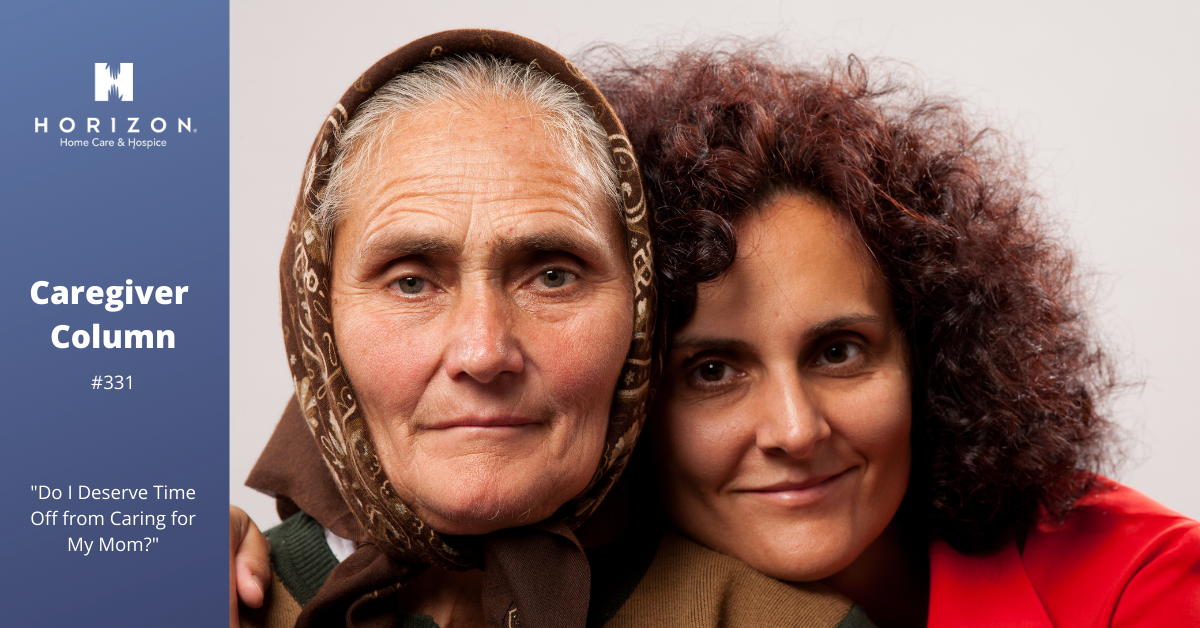 Question
"I'm the caregiver for my mother and I wonder how I can ever take a vacation. I stop by my mother's house every day. I do her shopping, laundry, dishes, bathing, and a host of other tasks. While my mom lives independently in her own home, she requires daily help.
I do live nearby and I am semi-retired, so I have the time to help her. The challenge now is that I'm tired and in need of a break. I've been helping her daily for over five years without more than a weekend off in that time.
I feel guilty for wanting to run away to a tropical island and leave Mom's care to someone else. She won't live forever, and I'll have the rest of my life to travel.
What is reasonable here? Is it okay to leave my mom and take a vacation, or should I tough it out and wait until after she's gone?"
Answer
Caregiver guilt is what you describe, and your feelings are understandable. Caring for your mother is part of your routine and an assumed obligation. Five years of daily care is quite a commitment, and a wonderful gift you have given her.
Now is time for just a bit of reflection. At some point, we all need to let go a bit. We do this with our children as they grow and leave for school, even if only for a few hours. We entrust the care of our children and learning to other adults. While it's hard to see them go the first time, we know that it's the next step to their independence.
The situation is a bit different with your mother, but some of the same principles apply. You are not the only person that can assist her. While you are her child and the closest to her, others can perform your same tasks, even if only for a short while. In fact, it's best to have a network of help rather than always working solo. There is no guarantee that your health will always be good or that some other demand won't draw you away, such as the needs of your own children or grandchildren.
It's time to build a team. Feel free to be the captain of that team, but get help. Organize, schedule, and do what you must to orchestrate the best care amongst yourselves. No team captain wants to be one deep, which is your current situation. Tap siblings, neighbors, paid caregivers, the department of aging, or church friends. Build your network, and take a break.
We all need occasional time away to reflect. It could be on a beach, a cabin in the woods, or a long drive to nowhere. Getting away is restorative and necessary. It's called rest, and it is essential.
Yes, it will be hard to leave. It will initially be difficult to make the connections for additional care, but necessary. You'll be a better caregiver for it, and both you and your mother will have new stories to share.
Now is time to recognize your needs, too. This is a shared journey. May you explore it together.
About this Post
Posted 10.02.2021