Dad Needs to Downsize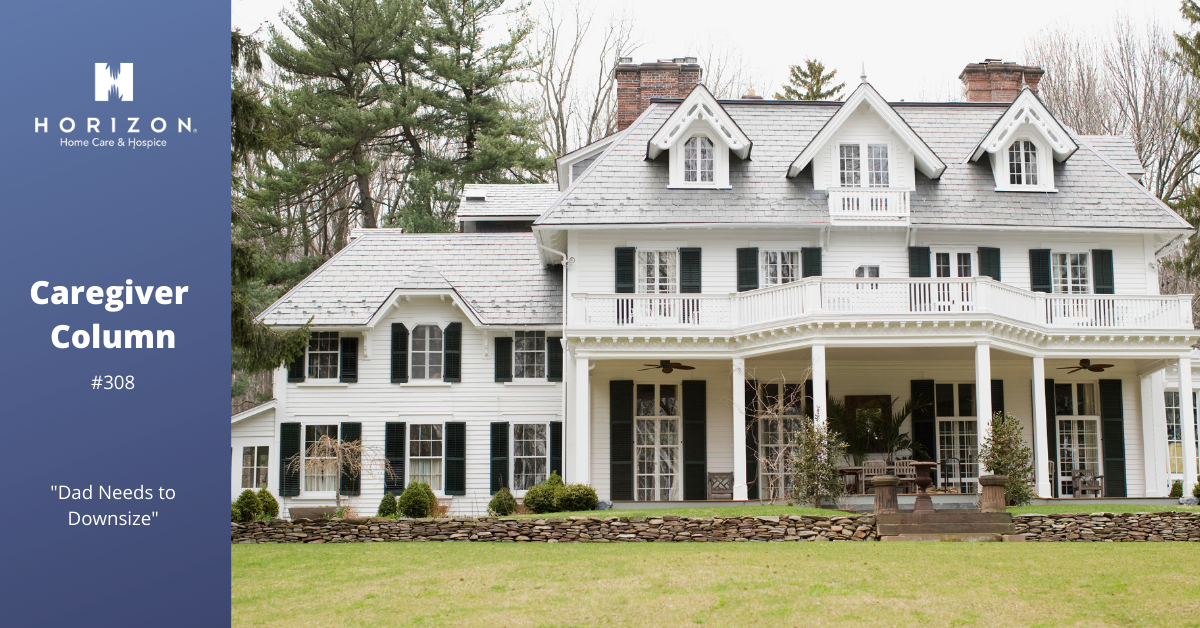 Question
"I believe that my 90 year old father should downsize. He continues to live in the home that he and my mother built 60 years ago, and it's huge. We're talking 5,000 square feet of living space. It's a monstrosity and he doesn't have the ability to take care of it.
When I ask about cleaning or repairs, he tells me to just let it go. He clearly has no intention of taking care of this big house and it's starting to decay. There are a few spots where the roof is leaking, the yard is becoming unruly, and I won't even get into how much it needs a good cleaning.
You're probably wondering why I don't help him take care of the house. Frankly, it's too much to expect. Me, an only child? I can't manage my own home and take care of such a large property.
I think he should move into a home that he can manage, or a retirement complex. How do I convince him of this? By the way, he is not confused."
Answer
This is a very tough situation. It sounds like he is just not able to manage the large property that he has and he does not care that it is falling into disrepair.
Know that this is a common problem with the elderly. Homes large or small that we once had the stamina to take care of can become unwieldy when we live well into our 80s and 90s. It's a rare individual at that age who can manage such a large property on their own.
It is well and good to stay in your home at that age—I'm with your father on that front. What I do believe is that if you want to stay in your home, then you should keep it maintained. It's not necessary to do the work yourself. Almost any task can be hired out. Frankly, I believe you can have everything done by someone else. When you are no longer able to care for your home, hire someone else to do it.
Allowing a home to deteriorate is rather sad. It can also be a safety hazard to him and neighbor children or pets. There are potential health risks, either physical or psychological, to him living in a poorly maintained home. You may also remind him that he is devaluing an asset if he does not take care of it. If he does not care about that, remind him that the work of preparing it for sale could become your job someday and that you would rather keep up with that work now.
Encouraging your father to take care of his environment may be challenging, though I believe you should give it your best effort. I recommend that you offer to help him locate and hire the appropriate resources to bring the homestead back to a livable situation. You may need to insist that he secure assistance.
You are on a journey that many children will take with their aging parents. Talk with friends and peers to find out how they navigated this challenge. While each situation has some differences, there are also many similarities. I wish you the best.
About this Post
Posted 04.24.2021