Dad Ignores His Future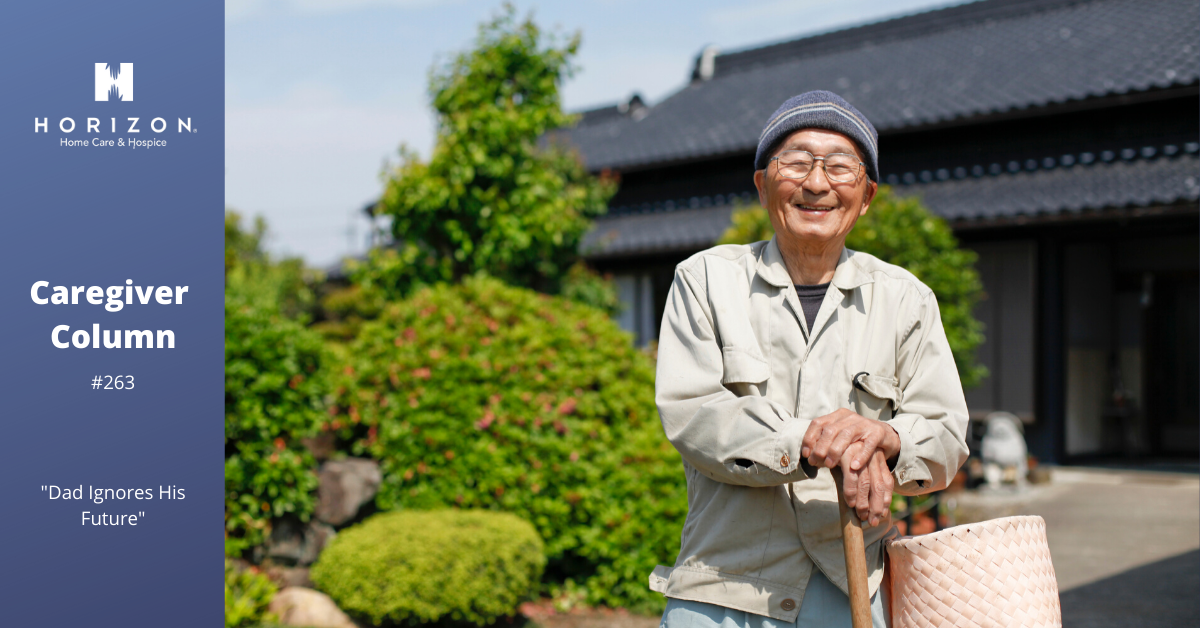 Question
My father refuses to plan for his future housing or health care needs. He has lived in the same home for the last 60 years and is not willing to move. He won't even discuss other options. At age 91, it feels unlikely that he'll be able to stay there, living independently. What I don't know is how long we have till he needs the help. Frankly, I think the time is near, as I seem to do more for him each month.
Every time I try to discuss this, Dad changes the subject or emphatically states that he is going to stay in the house until they carry him out. I actually believe he means it. I'm not trying to force him out of his home, but I would like to at least develop a plan here. Do you have any ideas?
Answer
Your father is choosing to stay where he is—it's a choice to not make plans for the future.
He's waiting for a critical incident to occur in which the Emergency Medical System removes him from his home. He'll fall, die in his sleep (though that's uncommon), and become too confused to care for himself, or become so ill that he requires hospitalization. At that point, the decision of whether or not he can return home safely will be yours to make.
It's admirable that you want to plan for your father, but it's not essential that he plan for his future. He's decided to "kick the can down the road" and ignore any available options. It's not unusual for someone to refuse to leave their longtime home.
What you can do is familiarize yourself with every option like home care, assisted living, adult day care, or nursing home care. That will help you feel prepared. Also, I recommend discussing this with your siblings, if you have any, so you can split up the research. Tasks shared are more manageable for all parties involved.
It's not necessary to annoy your father with your findings. He's already made it clear that he isn't interested in considering them. Who knows—he may be in the minority that does simply pass in his sleep one night, and your research will have been unnecessary. But obtaining this info provides peace of mind, so it's well worth your time.
I wish you well in this journey of life with your father.
About this Post
Posted 06.20.2020