Dad Always Hates Our Gifts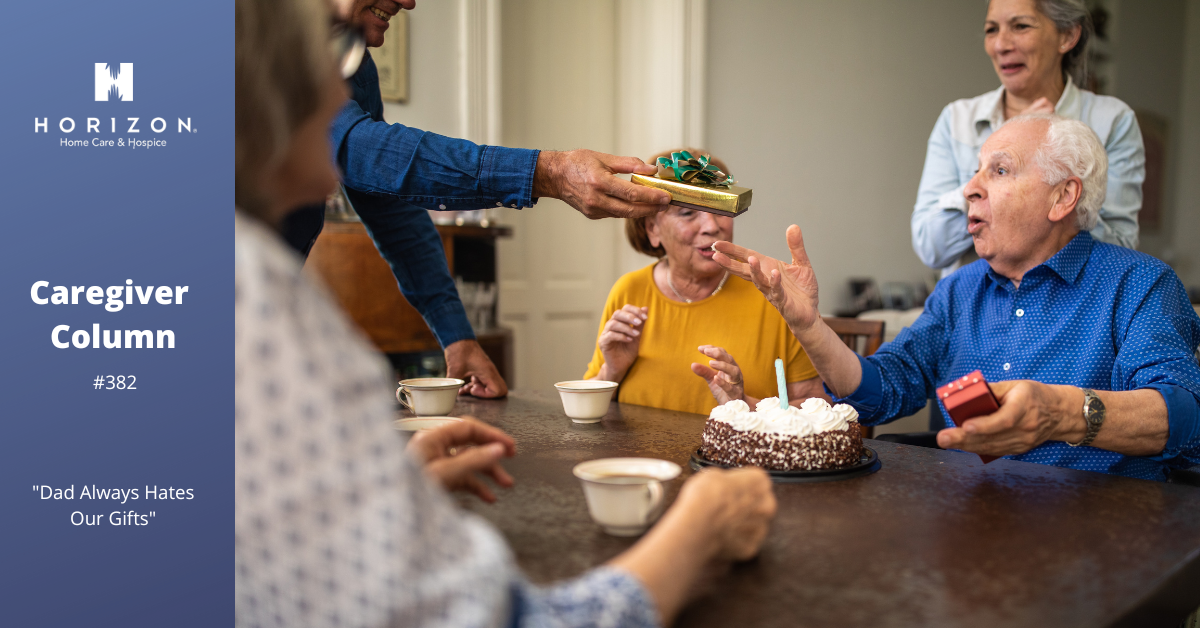 Question
"My 86-year-old father hates all the gifts anyone ever gives him. He opens them, barely says thank you, and then shoves them aside. I don't think I've ever even seen him use one of those gifts.
We're now approaching the gift-giving season and wonder if you have any thoughts on how we handle this going forward. Is this just hopeless?
It would be so very nice to give him something he wants. It would make Christmas for us to have him open something and be happy.
We need ideas!"
Answer
Your father is like many fathers that age. It can be so extremely difficult to find something to give them that will please them. The good news is that you're not alone in this struggle. It's quite a common dilemma.
The issue is that they really don't want the things that you yourself might like. Let's face it, we tend to gift people things we like, and not necessarily what they like or need. By the time someone is 86, they've lived a lifetime. Their desire for more items lessens. They have filled or more likely over-filled their space, and anything you give them requires more storage. Maybe you can't relate because you aren't that age yet. You could be still filling a house, raising children, or collecting. The older you get, the more you'll understand.
The secret to gift-giving for any elderly person is to pay close attention to how they live and what appeals to them at this point in their life. To do this, you need to spend time with them. Watch what and how they eat, what they struggle to do, and how they spend their time. Once you've done that, you may come up with ideas of your own. I will give you some, too:
Give him a basket of nonperishable food items that he eats regularly. Basically, it'd be a pretty basket full of groceries arranged in a festive way. Who doesn't want someone else to cover a grocery bill? Avoid odd or unusual foods that he may turn up his nose at, or you may see that item in the pantry for years, unopened.
If he eats out and is willing to use a gift card, getting one for his favorite restaurant should work for him.
There are many cool electronic devices that are wonderful for the elderly. They make life easier, safer, and more enjoyable. Look at electric bikes, digital picture frames, larger cell phones, robot vacuums or any device that is easy to use and a pleasure to own.
Sometimes, basics are the best. I would consider premium towels, new pajamas, an electric toothbrush, quality slippers, a fancy shaving brush or electric shaver, quality hand cream, large print books, subscriptions on a topic of interest, or even a subscription to the newspaper.
Time and experiences are all-time favorites. A lunch or dinner out, a sporting event, a trip to the zoo or museum, or a day at the beach. Simply getting to spend time with family is extremely valuable to most.
Whatever your father enjoys doing is an opportunity. If you're thinking, "All he does is watch television," then focus on what could make viewing more enjoyable. I would remind you, though, to consider his age and the likelihood he'll use whatever you get.
Please avoid getting him items you want him to use, like an electronic that's hopelessly complicated to use, a gift card for a service he's never used, or a restaurant he's never been to. Only upgrade something he already has or does.
I hope these ideas give you a positive direction and that this year, you'll be successful in scoring the winning gift.
About this Post
Posted 09.24.2022
Latest on the Blog...
Caregiving Advice
Sep 30, 2023
Caregiving Advice
Sep 23, 2023
Caregiving Advice
Sep 16, 2023