Dad's Property Is a Mess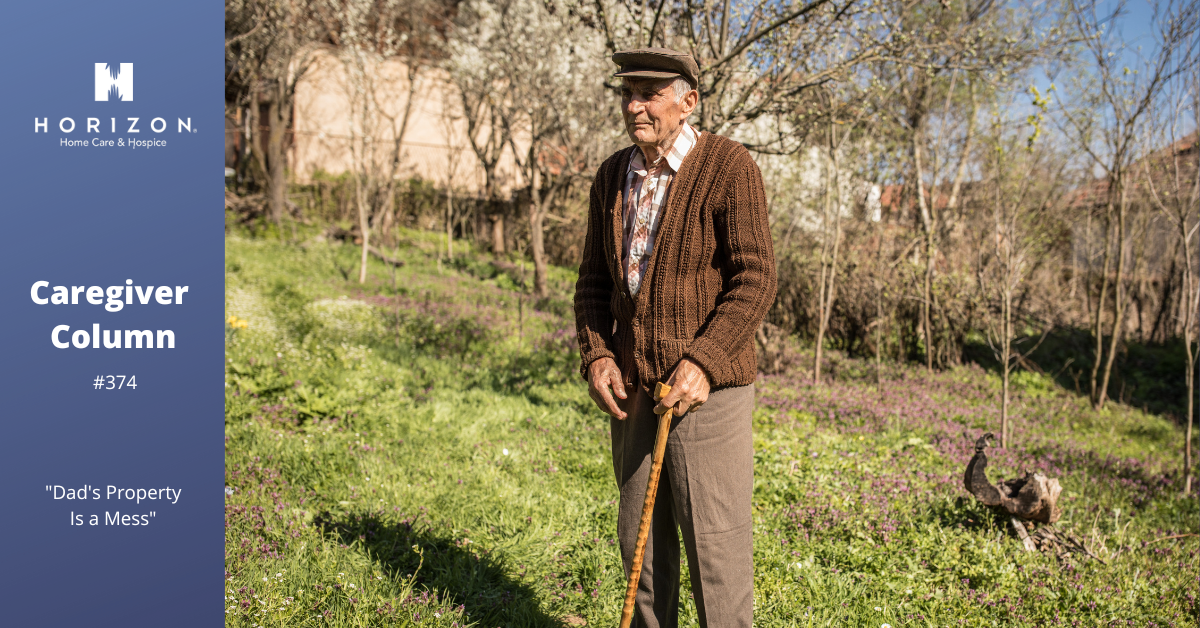 Question
"My father lives in his own home. It happens to be the one he built 80 years ago. He's almost 100 now and still living in that house! It was lovingly cared for until the last 10 years.
The house is in the country, but he does have neighbors on either side of him. Therein lays the problem: the neighbors feel that my father's lack of yard care is potentially impacting their property values.
Dad is unable to clear the weeds or brush, and the property is over an acre. I try to help, though it is way more than I can do while maintaining my own home and yard.
I don't think Dad realizes how much work it is and that it's unrealistic for me to take care of the property. It's a very big job to keep that yard well maintained. I would have to live there and work on it constantly. I have a family, a house, grown children, grandchildren, and an aging body.
So far, my father has refused to consider a different living situation, and I'm running out of ideas. I simply cannot stand the stares from his neighbors."
Answer
I agree that you're in a very uncomfortable situation. I understand how difficult it is for your father to consider leaving a home he built. At this point in his life, he likely does not care very much about weeds or how his property looks. At 100, it's even very likely he doesn't see well, so he may not really notice.
Right now, dealing with how you feel about the neighbor's stares may be the biggest challenge you face. I do get how uncomfortable it is for you and the neighbors. It may feel even worse if your father used to take wonderful care of his property.
This is one of those situations where "it is what it is." Dad can no longer take care of his property and you can only do what you can. Try not to feel guilty that you cannot maintain such a large yard without help. It is a lot. I do have several thoughts for you:
At 100 years, it's not likely to be an issue for too many more years. You could just grin and bear it for a few more.
Suggest to dad that he bring in a crew to clear the weeds and grass.
Offer to organize a crew to clean up the yard for your father. Often at his age, just hiring and organizing the cleanup may be too much. He could be grateful for the planning and execution.
Speak to the neighbors. They may have ideas for you and can share their concerns and frustrations. It's much better than enduring uncomfortable stares.
Lastly, talk about what his plans are for care when he can no longer care for himself in that home. If he refuses to discuss, you have your answer. It will be on you when what I call a "critical incident" happens.
You are blessed to have your father for such a long time. There will always be challenges, and you are wise to seek solutions. This is not an easy one, though you do have options that can help you deal.
I wish you success with this journey.
About this Post
Posted 07.30.2022