Can Dad Wear a Mask If He Has Trouble Breathing?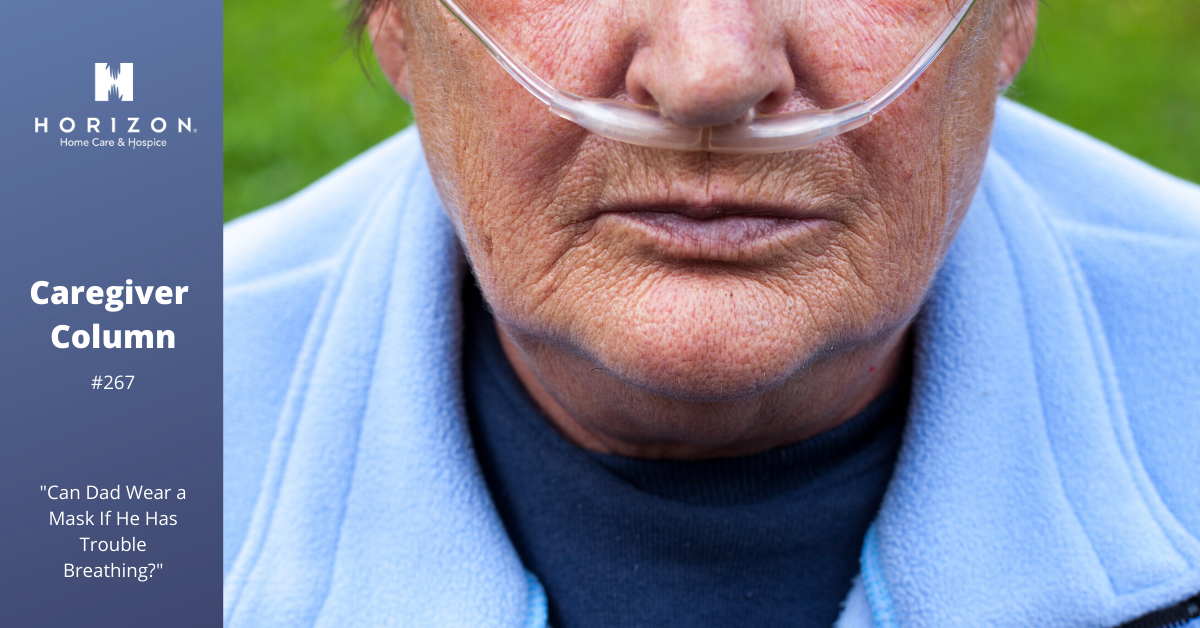 Question
"My father has COPD and has trouble breathing all the time. He uses oxygen continuously, and I'm wondering about him wearing a mask. Is it necessary for him to wear a mask? Will it be too difficult for him? I don't want to make a bad situation worse."
Answer
Those who have trouble breathing, be it from COPD, asthma, or another respiratory illness, are also those who are at greater risk for a poor outcome should they contract COVID-19.
I am guessing that your father is not working or out and about in the community very much, and that's good. He is someone who should stay at home and have his social interactions virtually. All efforts should be taken to keep him away from others.
When anyone is in his presence, it's essential that that person wears a mask. It's also important to keep at least six feet of distance between him and the other person, at a minimum. I actually recommend 10 feet or more as a safer distance. When visiting family members, we often let down our guards. They are family after all! That could be the biggest mistake ever. At that point, you're playing with his life. He is not someone that should get COVID-19 as he is likely at a very high risk of dying should he contract it.
Since your father is on continuous oxygen, his need for air is met through mechanical means in a very concentrated form. With that said, he may still be intolerant of any decrease in air flow. If he can tolerate a mask, I recommend that he wear one. If not, it would be best to have some form of plastic barrier for his face when someone is visiting. One suggestion would be a clear piece of plastic or Plexiglas to hold in front of his face while interacting with you or others.
Anything that you can do to decrease the interchange of inhaled particles shared amongst you is helpful. That is why masks work. Masks catch the normal spray of particles that we exhale with each breath. We emit more when we talk and far more when we cough or sneeze. Just holding a mask up in front of your mouth and nose is helpful.
You wisely see that you have a special challenge with your father's health condition, and you may need to be creative to protect him. I trust that if you get creative, you can replicate the mask experience with other materials.
I wish you success as you work to protect your father from COVID-19.
About this Post
Posted 07.18.2020