Am I Helping My Parents Enough?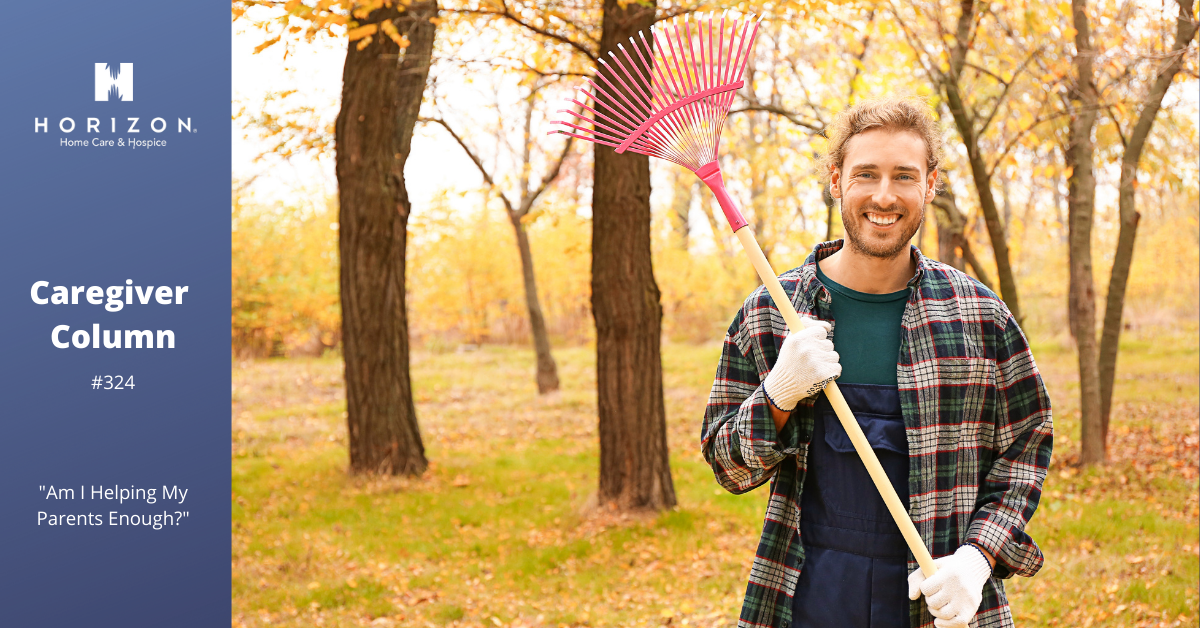 Question
"I live two hours from my parents and wonder how much time is reasonable to spend helping them. I visit at least once a month, sometimes twice. While I'm there, I do minor repairs on their home.
My folks are in their late 80s. On the days I visit, I leave home right after breakfast, drive two hours, work at their home for about four hours, and make the trip home in time for a late dinner. This usually occurs on a Saturday, as I work during the week.
My wife will spend those Saturdays working on chores that need to be done at our home. It makes for a working weekend, but it's satisfying. I worry that I'm not helping my parents enough, though with the help I give, they seem to be getting by. How much is reasonable to help parents at this age?"
Answer
It's natural to wonder about how much help our parents need as they age. Assisting them comes gradually, as you have found out. It generally starts with larger projects that require the strength and agility of a younger person.
Visiting like you are is quite reasonable. I'm also certain that your parents are very grateful to have your assistance. How wonderful it must be to have your son come once or twice a month to work on a list of home projects. I think it would be any homeowner's dream. It keeps them from taking risks they probably shouldn't, such as climbing on ladders and other risky physical work.
Your visits also give you an opportunity to notice how they function in their environment, like how they move, how they interact with others and overall just what they do and don't do. It also sends a message to the neighbors that this couple has family that pays attention.
I understand that what you're doing is not easy. When you work full time, manage your own household, and also care for a parent's residence, you are busy. As their needs grow, you may need to tap siblings or outside help to keep your parents safely in their home. Based on your distance, when twice-a-month visits become routine, you may need to start exploring other options for additional support. I'm not suggesting you stop coming, but just that you add other assistance to what you already provide.
Caring for parents is journey that requires patience and frequent re-evaluation. You're doing the right thing by helping them as you look to the future.
About this Post
Posted 08.14.2021