2021 Matters of the Heart Gala Gratitude
This year's annual Matters of the Heart gala looked a little different than normal. Okay, a lot different. But just as every year, it was fun, heartwarming and integral to supporting Horizon's Grief Resource Center.
On Saturday, February 27, Horizon held a virtual, in-home event to raise money in support of the GRC, which provides free counseling and other supportive services throughout the year. Such services have come in even higher demand during the difficulties of the global pandemic. Since Horizon is an organization structured around the idea of "home," we took a nod from the cinema classic, "The Wizard of Oz" and the truth in the statement, "There's no place like home."
Thanks to the incredible generosity of our donors and guests, the Grief Resource Center will be able to continue their life-changing work.
At "The Wizard" sponsor level, we truly thank Ascension, Clear Channel Outdoor, David Hobbs Honda and Digicorp for stepping up in such a big way in these unprecedented times. Your unwavering support means so much to all of us here at Horizon. Our priority is to make a loving difference in the lives of our patients and their families, and we're so glad you've made it your priority, too.
To our "Emerald City" sponsors Mimecast, the Orthopaedic Hospital of Wisconsin and Terry & Paul Regnitz, we are so grateful for your support, which directly helps those in our community who are dealing with loss. We can provide them with the care and resources they need thanks to you.
We greatly appreciate our "Ruby Slipper" sponsors Action Graphics, Delta Care, Enterprise, Froedtert & The Medical College of Wisconsin, Vizance and Willis Towers Watson for supporting Horizon and our mission. With your help we are achieving our goal of providing the best care possible to our community, and we can't thank you enough.
Our "Yellow Brick Road" sponsors Concordance Healthcare Solutions, Davians, Majic Productions, Integrity Wealth Management, Network Health, Coleen & Eric Schmidt and US Cellular are rock stars in our book. We appreciate your benevolent gifts that help Horizon achieve its goals each and every day. Thank you for your support!
And to our "Lollipop Guild"-level sponsors Bell Ambulance, Celtic, Guardian Pharmacy Wisconsin, Imagine Fun Stuff, Krueger Communications, Susan & Zoan Kulinski, Lincoln Financial Group and Stateserv, we are so honored that you have our back. Thank you for playing such an important role in our work. The effects of your gifts are felt far and wide.
We must also thank our gorgeous, talented and selfless emcees and special guests Andrew & Susan Varela, Ryan Jay and Shanice Williams for making it such a memorable evening. The event was virtual but you made it feel up close and personal, and we all had a wonderful time.
Additionally, we sing the praises of The Pfister Hotel for the delicious pick-up meals, Horizon CEO Mary Haynor for her leadership, and all of our guests and donors for their advocacy.
This year's event was a great success thanks to everyone mentioned, and getting together in person next year will be all the sweeter.
-Horizon's Development Team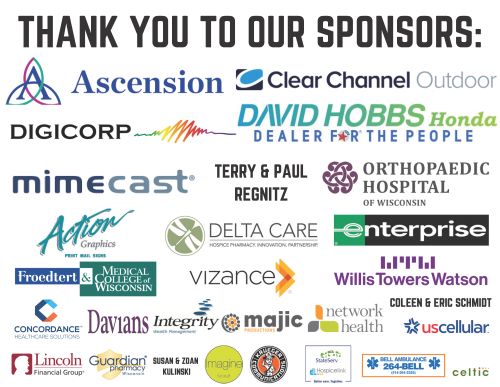 You can relive the magic here: https://www.youtube.com/watch?v=pSD1H47umbc
About this Post
Posted 03.01.2021