Feeling Helpless from Afar

Question
"My mother lives halfway across the country. She is struggling to manage my father's care alone. He is a large man who is ill and quite ornery. He has heart disease and is moving very slowly. He has become very demanding, and my mother is in tears every time she calls.

I would love to travel to their home to help her out or just to give her a break. Unfortunately, I have a modest income and limited vacation. I simply cannot afford to travel to their state to give my mother a break. What do I do to help the situation?"

Answer
You are attempting to help from a distance, which can be the most difficult form of caregiving. You never feel like you have done enough. The guilt of not being there to help is sometimes as difficult as the work of caregiving. You are indeed in an uncomfortable spot.

Let us explore what you can do.

It sounds like money is the biggest barrier to visiting your parents. Your mother sounds like she is in distress; so I agree that a visit is a good idea. For your mother to have a bit of a break and some on-site support, she may be willing to purchase an airline ticket for you. It would be a lot less expensive for her to fund an airline ticket for you than it would be for her to purchase outside help for a week. So go ahead and make the offer to come if she can fund the ticket for you, round trip of course.

As to the lack of vacation, with your father's medical condition, I recommend that you check into Family Medical Leave at work. If you have worked the required amount of time and hours, and your employer has 50 employees or more in the area, this type of leave is available to you in most situations. Whether or not it is paid is individual to each employer as paid family leave is not a mandated benefit, so check with your Human Resources department before making any assumptions. It will take a bit of paperwork, but not too much.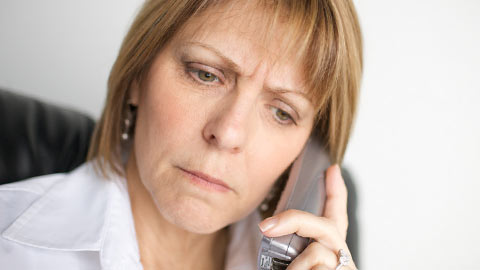 If traveling to your parents home is out of the question for financial or employment-related reasons, then you will need to convey that message to your mother. That does not mean you cannot be of assistance to her. Just taking those stress-filled calls whenever your mother makes them is likely more helpful than you know. Providing advice and moral support to your mother regarding the management of your father's care may be the primary reason she calls.

It is also possible from a distance to research resources in her area. At the risk of being stereotypical here, children are often more savvy at using the internet to discover what is available in a location. Your mother's stress level may not afford her the energy right now to properly research and find the help she desires. Perhaps home-delivered meals or groceries delivered to the house would help her. These days almost anything can be delivered in a box to your doorstep.

I suggest that you call your mother and ask her what type of support would help her most. Make the trip if you can work it out with Mom and your employer. When you are onsite, it will be easier to assess what is going on and figure out how to best help from a distance.

I wish you the best.
- Mary
About this Post
Posted 04.29.2017
Latest on the Blog...
Caregiving Advice
Nov 26, 2022
Caregiving Advice
Nov 19, 2022
Caregiving Advice
Nov 12, 2022